UPDATE 1:20 AM
The Pine Bluff Police Department is in the early stages of a shooting investigation that has left one person dead and another three injured.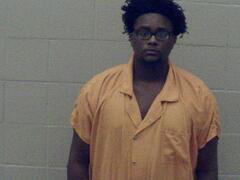 Shortly after 7:00 p.m. officers responded to a report of a shooting inside Regional Park.  
During the initial investigation it was determined that three people had been shot.  
One of those shot was an 18-year-old male who later died at the hospital.  
As the investigation progressed it was discovered a child who is approximately 11 years old had also been shot. The child is receiving treatment at a Little Rock Hospital.

The name of the deceased victim is being withheld pending the notification of the next of kin.  
Police officials say it appears there was a family gathering in the park when there was a disagreement over money. Police believe that disagreement led to a physical altercation when shots started being fired.

Police believe there were multiple people shooting and one gun has been recovered.  
Additionally, several people have been questioned and the investigation is continuing.

At this time 20-year-old Clifton Westmoreland has been arrested on three counts of 1st Degree Battery.
The homicide itself is still being investigated, according to Police.
Pine Bluff Police say that just because there was an arrest doesn't mean this investigation is over. There were several people present when this incident occurred.
Police are asking anyone with information to contact the Detective Division at 870-730-2096 or Dispatch at 870-541-5300.  
UPDATE 1:00 AM
Pine Bluff Police Chief Lloyd Franklin confirms one of the victims in Saturday's shooting at Regional Park has died from their injuries.
Franklin said the victim passed away at a local hospital.
There are at least two other victims receiving treatment from the same shooting. Three suspects were taken into custody and are being questioned by detectives.
UPDATE 8:12 PM
Pine Bluff Police Chief Lloyd Franklin tells Deltaplex News that three suspects are now in custody and at least one weapon has been recovered.
No other information is available at this time.
UPDATE 7:45 PM
Pine Bluff Police Chief Lloyd Franklin says at least three people have been shot including a child. He says police are looking for a light skinned black male driving a white Impala or Malibu.
ORIGINAL STORY
Deltaplex News sources are indicating a shooting has taken place at Regional Park.
Limited information is available at this time, but sources indicate multiple people have been shot and medflight has been dispatched.
No other information is available at this time, but we will update with more information as it becomes available.