Helen Evelyn Peterson
Rison, Arkansas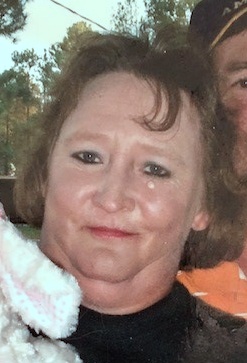 1965-2020
Helen Evelyn Peterson, age 54, of Rison, AR passed away August 5, 2020 in Little Rock, AR.  She was born October 5, 1965 is Rison, AR to Willie and Mary McGriff Peterson.  Helen enjoyed fishing and being outdoors, but most of all, she loved spending time with her grandchildren, family and friends.  She was a loving daughter, sister, mother, and grandmother, and will be dearly missed.  She was preceded in death by her father, Willie Peterson.
She is survived by her mother, Mary Peterson, daughters, Wendy Fisler (Tony) and Sheila Walker (Chris), grandchildren, Shyanne, Kendal, Christopher, and Mary, her fiancé Gerald Scott, siblings, Judy Hopper, Bobby Peterson, Jimmy Peterson, John Peterson, and Gary Peterson.
Visitation will be from 6:00 p.m. until 8:00 p.m. Friday, August 7, 2020 at Buie Funeral Home in Rison.  A graveside will be 10:00 a.m. Saturday, August 8, 2020 at Greenwood Cemetery in Rison, AR.