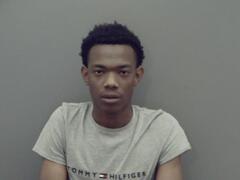 By Ray King
A 19-year-old Pine Bluff man identified as a suspect in the shooting death of a 14-year-old girl June 7 will be held at the adult detention center with no bond while prosecutors prepare formal charges against him.
On Wednesday, Pine Bluff District Judge John Kearney ruled prosecutors have probable cause to charge Vernon McCraney with capital murder and aggravated assault.
During the court hearing, Chief Deputy Prosecutor Will Jones presented the facts that led up to McCraney's arrest.
Jones said the driver of the car drove away from the shooting, then pulled over a couple of blocks away from where the girl had been shot. Police said the car was located on Maple Street between 23rd Avenue and 24th Avenue and the girl was pronounced dead at the scene.
Of the four to six individuals involved in the shooting, Jones said McCraney was identified as one of them.
Police are also looking for Keundre Parker, 16, who has been identified as a suspect in the murder. He is known to frequent the Howard Drive area.
The Public Defender's Office was appointed to represent McCraney who also appeared in court Tuesday on a separate aggravated assault incident that occurred June 18.