No. 4 Arkansas Finishes Strong on Final Day of Texas Relays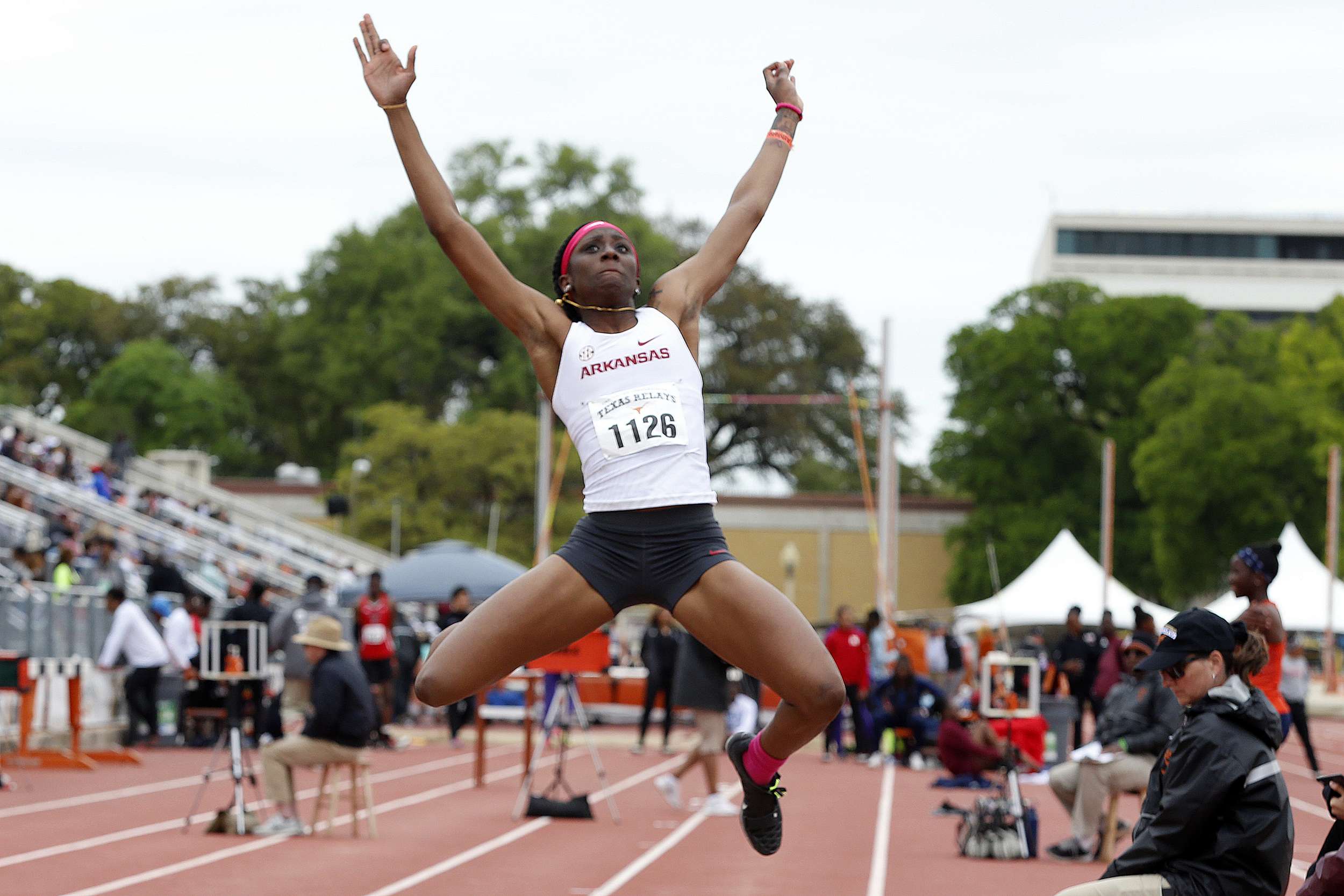 AUSTIN, Texas – With seven events on the track, No. 4 Arkansas had a busy afternoon on the final day of the 92nd Clyde Littlefield Texas Relays at Mike A. Myers Stadium on the campus of the University of Texas.
Arkansas started the day on the track with the finals of the 4×100-meter relay. Kiara Parker, Payton Chadwick, Janeek Brown and Kethlin Campbell qualified Friday afternoon running 44.17, and followed up that performance by lowering their time to 43.62 – the fifth-fastest performance in program history.
In the final of the 100-meter hurdles, Janeek Brown charged out to a lead she held until the final hurdle where she clipped the barrier causing her to lose her balance as she dove torwards the finish line. Brown would take second in a season-best 12.97 while Chadwick followed close behind in third-place at 13.13. Brown's time is currently the No.2 time in the NCAA trailing only LSU's Tonea Marshall who bested Brown by a mere one one-hundredth (.01) of a second in Saturday's final.
Kiara Parker, who qualified for Saturday's final of the 100-meters with a season-opening 11.21, finished fifth in the final running 11.30 followed by teammate Kethlin Campbell in seventh at 11.56.
The first of two 4×400-meter relays on the day for Arkansas featured Paris Peoples, Sydney Hammit, Sydney Davis, and Shafiqua Maloney running 3:39.06 for fifth-place in the Invitational Section.
The second 4×400-meter relay for the Razorbacks saw Morgan Burks-Magee, Parker, Campbell and Chadwick post a season-best time of 3:33.35 in a second-place finish that is currently No. 4 in the NCAA.
Saturday featured two field events for the Razorbacks as Tori Hoggard, Lexi Jacobus, and Desiree Freier competed in the pole vault university elite section while G'Auna Edwards displayed her talents in the long jump.
Hoggard finished as the top collegian in the competition clearing 4.50m (14-9) – currently the second-best clearance in the NCAA this season. Jacobus and Freier finished seventh and eighth, respectively, with identical clearances of 4.25m (13-11.25).
G'Auna Edwards finished sixth in section "A" of the university/college division long jump leaping out to a mark of 6.33m (20-9.25) – the No.3 mark in program history.
Arkansas returns home to host the John McDonnell Invitational Apr. 12-13 at John McDonnell Field.