No. 17 Arkansas Completes Twilight Meet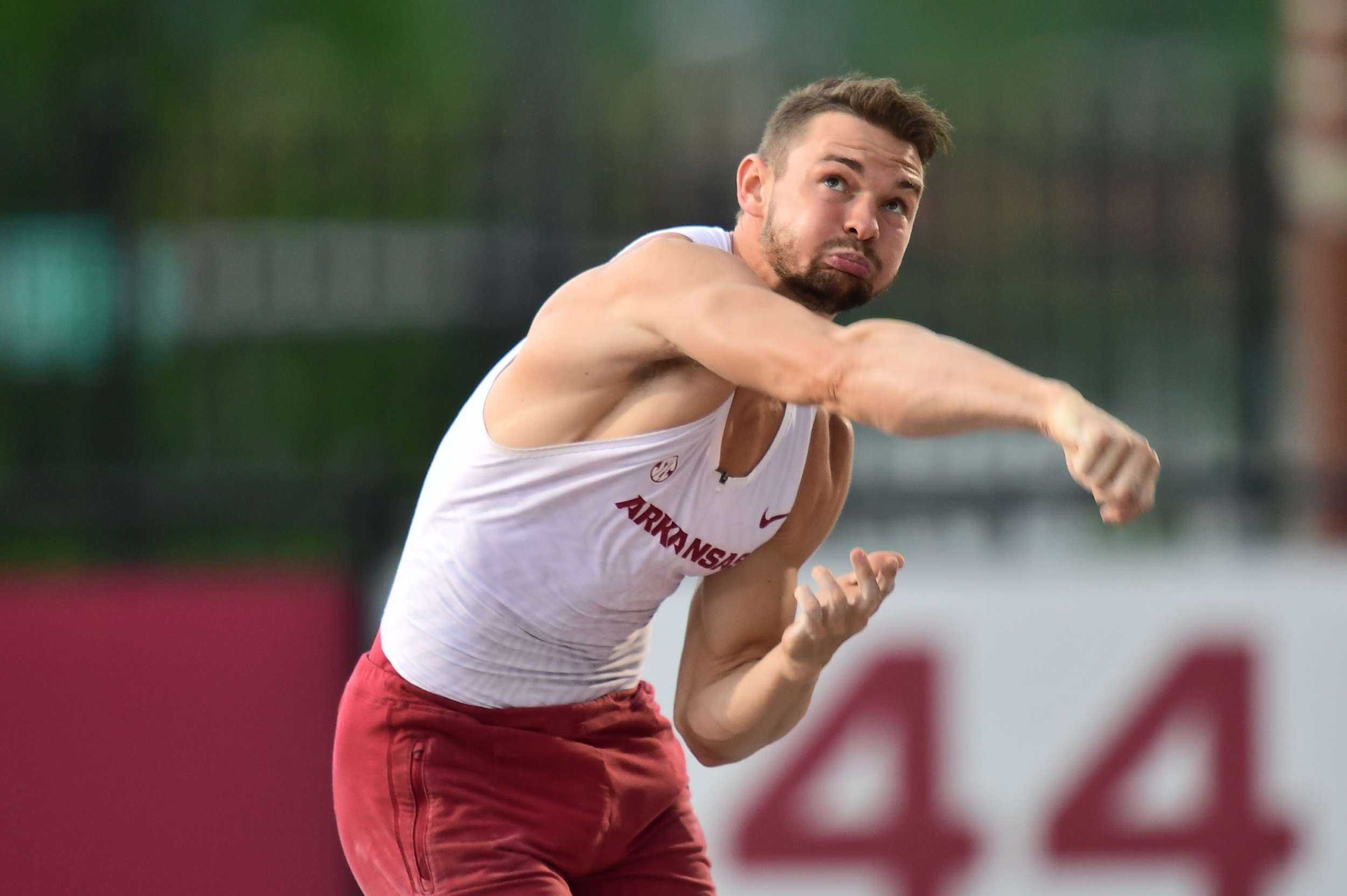 FAYETTEVILLE, Ark. – The No. 17 Arkansas men's track and field team wrapped the regular season on a rainy Friday night at the Arkansas Twilight at John McDonnell Field in Fayetteville.
Senior Erich Sullins kicked off the afternoon for the Razorbacks with a first-place finish in the hammer throw. The senior improved in each of his first three attempts, landing on a Friday-best of 64.45m (211-5) to earn the win in the event for the second consecutive year.
Before the weather delay, senior Gabe Moore posted a victory in the javelin behind a throw of 54.88m (180-1) on his second attempt. Freshman Daniel Spejcher placed fourth in the event, improving his distance on each of his first four throws, topping out at 44.48m (145-11).
After the two-and-a-half-hour stoppage, the Razorbacks earned the top two marks in the shot put as senior Sam Kempka posted a lifetime best 18.57m (60-11.25) on his final attempt to win the event and senior Jeff Rogers followed at 17.03m (55-10.5).
Junior Nick Hilson took fifth in the 400 meters behind a time of 48.15 and sophomore Reese Walters placed fourth in the 800-meter run at 1:54.41 to round out the day on the track for Arkansas.
Up next, the Razorbacks turn their attention to the SEC Outdoor Championships on May 9-11 at John McDonnell Field in Fayetteville.
Hammer Throw
1st – Erich Sullins – 64.45m (211-5)
Javelin
1st – Gabe Moore – 54.88m (180-1)
4th – Daniel Spejcher – 44.88m ( 145-11)
Shot Put
1st – Sam Kempka – 18.57m (60-11.25)
2nd – Jeff Rogers – 17.03m (55-10.5)
400 Meters
5th – Nick Hilson – 48.15
800 Meters
4th – Reese Walters – 1:54.41