No. 12 Arkansas Set To Host No. 2 Oklahoma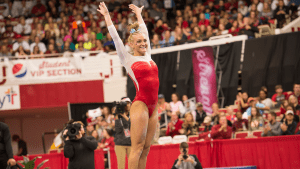 FAYETTEVILLE, Ark. – The No. 12 Arkansas gymnastics team will open up its 2019 campaign Saturday against the No. 2 Oklahoma Sooners inside Barnhill Arena. The meet is scheduled to begin at 6 p.m., while fans are encouraged to arrive at 5:45 for pre-meet introductions.
The meet marks the first time since 2014 that Arkansas has opened up its season at home, while the second-ranked Sooners will be the highest ranked season opening opponent in program history.
Meet Information
First Vault: 6 p.m.
SEC Network+: es.pn/2F6huYz
Live Stats: bit.ly/2R6JoKn
Tickets ($5): bit.ly/GymTickets
Promotions: Candyland presented by Always
Clear Bag Policy: Is Enforced
Runners Up Up First
At the NCAA Championships last spring, Oklahoma finished second. The Razorbacks, who were making their first appearance at the Championships since 2013, finished tenth. Arkansas has faced the sooners 15 times in program history; and is hosting the matchup for the first time since 2016.
Barnhill Magic
Arkansas posted a 5-1 record inside Barnhill Arena last season. In each of its final two meets, the Razorbacks posted team record high scores, including a 197.300 against Denver and Iowa State in its final home meet. The Gymbacks averaged a 197.005 in its five home meets, while posting three scores of 197 or higher in a season for the first time in program history.
Garnering All-America Status
Arkansas recorded four All-American performances at the NCAA Championships, including returning junior Hailey Garner on beam. Garner also tied the highest score in program history at the SEC Championships last season with a 9.925 on beam, tying Katherine Grables record.
Experienced Returners
Head coach Mark Cook returns 17-of-24 routines from last season. In addition to All-American Hailey Garner, the reigning SEC Freshman of the Year Sarah Shaffer and All-SEC performers Sophia Carter and Sydney Laird return to this years team. Senior Sydney McGlone will return to the lineup this year after missing most of last season with an elbow injury. In total, the Razorbacks return 82.1% of its scored routines on beam and floor from last season.
Notable Retirements
Two gymnasts, Kirby Rathjen and Makenzie Anderson, that were set to return for the 2019 season have announced their their decision to medically retire from the sport. Rathjen will serve the 2019 season as a student assistant coach.
Iron Gymback
Junior Jessica Yamzon returns this season after competing in the all-around in every meet during her freshman and sophomore seasons. The Las Vegas native averaged a 39.133 in the all-around last season.
Moving Events
Head coach Mark Cook will move to spot coach vault this season. He has coached bars for the majority of his career. Associate head coach Garrett Griffeth will spot coach bars this season, while associate head coach Jaime Armbrust will coach beam. Volunteer coach Courtney McCool Griffeth will coach floor.
Elite Home Schedule
Barnhill Arena will play host to some of the nation's elite gymnasts this winter. Arkansas is one of two teams in the country to host four preseason top-ten opponents, and is the only team to host four top-six.
by: Devan Lawson