No. 1 Razorbacks Close Arkansas Twilight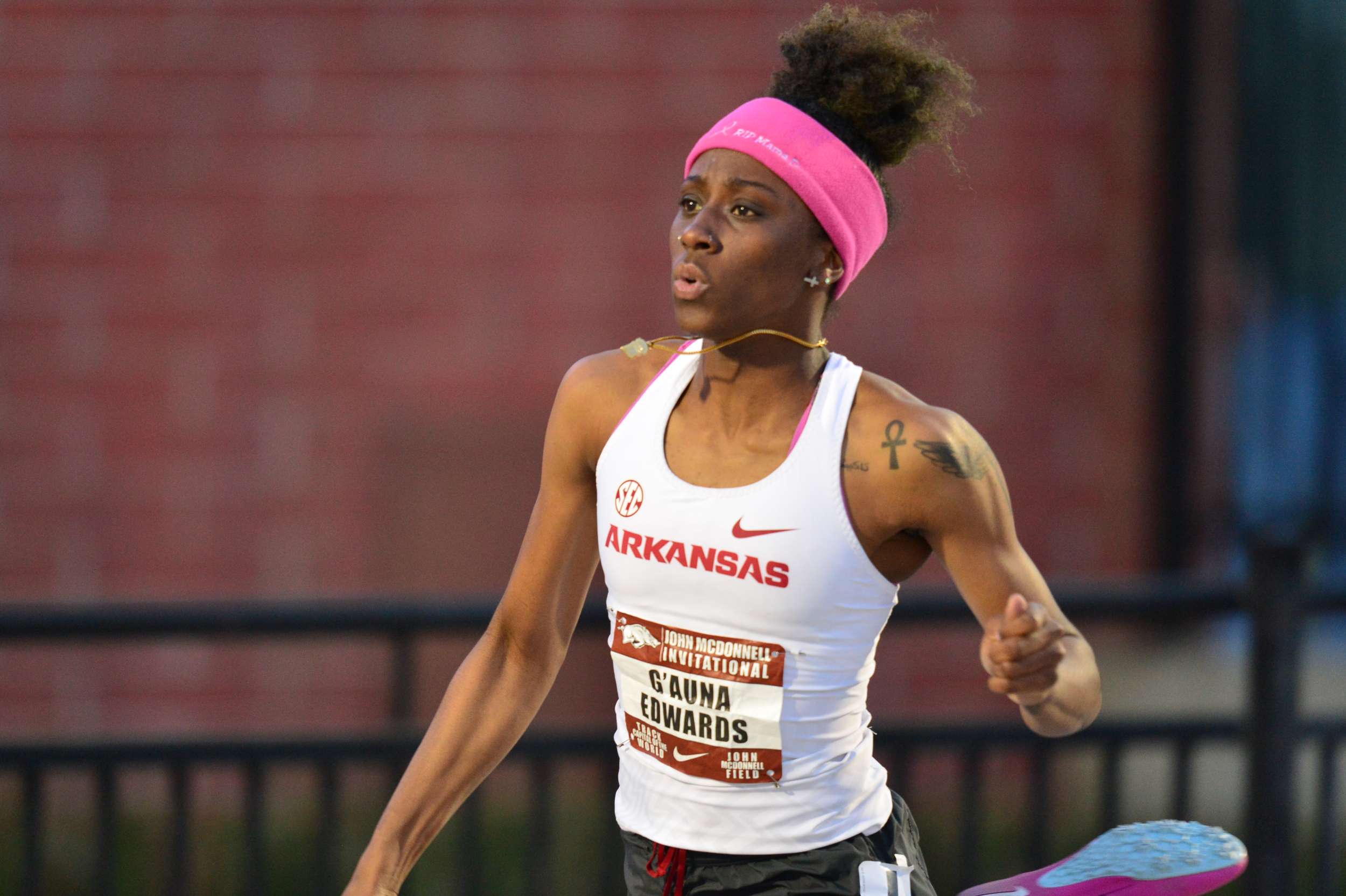 FAYETTEVILLE, Ark. – The No. 1 Arkansas women's track & field team put a bow on the regular season after concluding the Arkansas Twilight on a rainy Friday night at John McDonnell Field in Fayetteville.
Freshman J'Alyiea Smith posted a lifetime-best 1.76m (5-9.25) clearance in the high jump early in the afternoon to secure the event victory. In the javelin, sophomore Riley Hoogerwerf picked up a victory with a personal-best 32.59m (106-11), while junior Elleyt Belote placed second at 30.48m (100-0). Hoogerwerf also hit a mark of 41.35m (135-8) in the discus on her third attempt to finish sixth overall.
The running events began after a two-and-a-half hour weather delay with the 3,000-meter event. Sophomore Greta Taylor paced the Razorbacks with a 10:24.42, crossing the finish line in third, while sophomore Payton Brown placed sixth at 10:35.40.
Sophomore Tamara Kuykendall cruised to a first-place time of 11.73 in the 100-meter dash. Senior Sydney Hammit followed with a first-place finish among collegians in the 400-meter dash at 53.58, which sophomore Morgan Burks-Magee closely behind at 53.92. Another sophomore, G'Auna Edwards, easily took home gold in the 100-meter hurdles with a time of 13.60.
Burks-Magee returned to the track to top all collegiate runners in the 200-meter dash with a time of 24.28, while Kuykendall was second among college sprinters in the event at 24.41. Senior Sydney Brown and freshman Quinn Owen went 1-2 in the 1,500 meters at 4:24.86 and 4:25.27, respectively.
Up next, the Razorbacks turn their attention to the SEC Outdoor Championships on May 9-11 at John McDonnell Field in Fayetteville.
Discus
6th – Riley Hoogerwerf – 41.35m ( 135-8)
Javelin
1st – Riley Hoogerwerf – 32.59m (106-11)
2nd – Ellyt Belote- 30.48m (100-0)
Pole Vault
3rd – Morgan Hartsell – 3.46m (11-4.25) 
High Jump
1st – J'Alyiea Smith – 1.76m (5-9.25)
Long Jump
N/A – Rachel Jantzi – Foul
3,000 Meters
3rd – Greta Taylor – 10:24.42
6th – Payton Brown – 10:35.40
100 Meters
1st – Tamara Kuykendall – 11.73
400 Meters
3rd – Sydney Hammit – 53.58
4th – Morgan Burks Magee – 53.92
7th – Paris Peoples – 54.67
10th – J'Alyiea Smith – 55.96
11th – Sydney Davis – 56.54
100-Meter Hurdles
1st – G'Auna Edwards – 13.60
800 Meters
6th – Micah Huckabee – 2:15.99
200 Meters
2nd – Morgan Burks-Magee – 24.28
3rd – Tamara Kuykendall – 24.41
7th – Shafiqua Maloney – 24.82
1,500 Meters
1st – Sydney Brown – 4:24.86
2nd – Quinn Owen – 4:25.27
7th – Josie Carson – 4:41.67
14 – Tess Iler – 5:01.34
N/A – Meghan Underwood – DNF