By Ray King
A fight on the parking lot of the Alon gas station at 28th Avenue and Olive Street just before midnight Tuesday resulted in the death of one man and the arrest of a second.
George W. Tolbert, 60, was pronounced dead at the scene by Jefferson County Coroner Chad Kelley who listed the cause of death as gunshot wounds.
The suspect, Dewayne Johnson, 60, was taken into custody at the scene.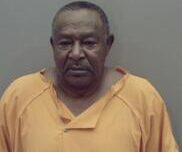 During a court hearing Friday, Deputy Prosecutor Caleb Conrad said Officer Enrique Soto was patrolling on Olive Street when he saw a black Toyota on the parking lot of the gas station with its doors open. Soto rolled his window down and heard a male later identified as Tolbert screaming and saw another male, identified as Johnson on top of Tolbert.
Detective Jason Boykin reported that Soto saw Johnson shoot Tolbert as he pulled onto the parking log and ordered Johnson and a second man later identified as Johnson's brother Fred to get on the ground which they did.
When Fred Johnson was questioned, he said he saw his brother and Tolbert fighting, heard two gunshots, and saw Dewayne holding a gun.
Conrad said Dewayne Johnson was interviewed and told Boykin that as he was getting out of his truck, Tolbert jumped on him. He said he reached into his truck and got his gun and he and Tolbert began fighting over the gun. He said he heard two shots but didn't remember anything else and Conrad said that story did not match the video from the police car camera.
Jefferson County District Judge Kim Bridgforth set a $150,000 bond for Johnson after ruling prosecutors have probable cause to charge him with first-degree murder. Johnson said he would hire his own attorney.