By Ray King
A suspect in the shooting death of Kavon Mitchell outside a house in the Dollarway area Thursday will be held without bond pending the filing of formal charges.
On Tuesday, Pine Bluff District Judge John Kearney ruled that prosecutors have probable cause to charge Hekeryin Cain, 23, with capital murder.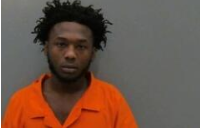 Reading from an affidavit from Detective Tamina Smith, Deputy Prosecutor Jill Reed said the shooting occurred at No. 25 Needles Drive and video from a security camera at a nearby residence showed two vehicles, a Chevrolet Impala and a Chevrolet Malibu pull up and one vehicle rammed the other, causing damage to both vehicles.
A couple of people from the vehicles began shooting directly at Mitchell, 20, who ran around the yard before collapsing. Both vehicles then left.
Reed said police later located the Impala at a house on Lilac Street and questioned the owner who said Cain had borrowed the vehicle at about 4 p.m. and returned it at 5 p.m. with new damage. Police also located a .40-caliber weapon and the weapon, and a shell casing were sent to the Arkansas State Crime Laboratory for analysis.
Detectives with the Pine Bluff Police Department developed 23 year old Hekeryin D. Cain as a suspect in this homicide. Cain was located at about 3:00 AM on Sunday September 6th at 4301 W. 18th in Pine Bluff. Cain was arrested without incident and later booked into the Jefferson County Jail for Capital Murder.
Smith said in the affidavit that when Cain was arrested, he said he understood his rights and said he had never driven the Impala and had no connection with the incident, then he asked for an attorney.
Reed said the owner of the vehicle was able to say that it was her vehicle in the video that police obtained. Reed went on to say that there were two homicides that occurred during the time frame that Cain had the vehicle, the one on Needles Drive and a second at 17th and Elm that resulted in the death of a 17-year-old male and injuries to a second male.
The Public Defender's Office was appointed to represent Cain.