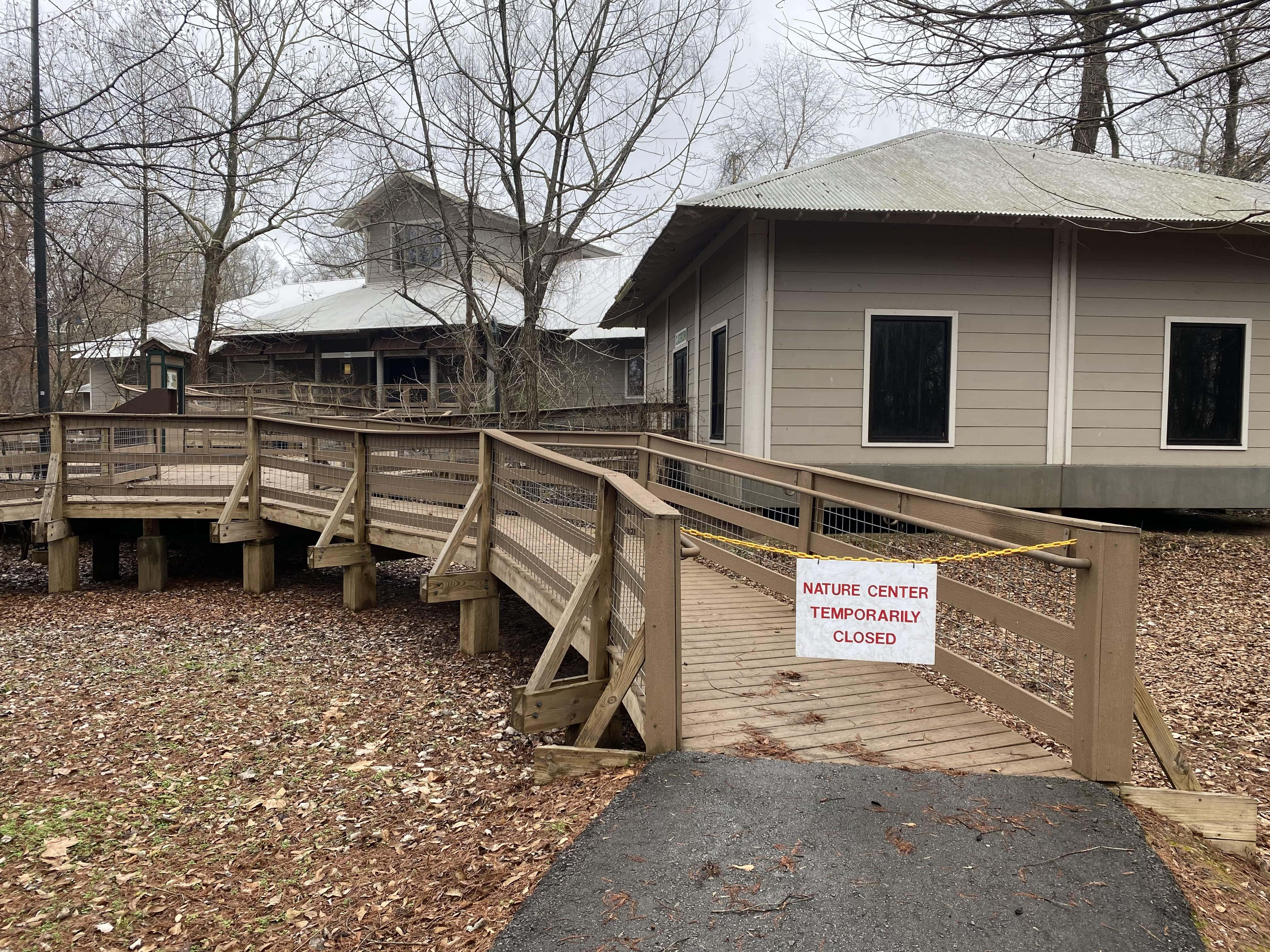 The Delta Rivers Nature Center at Regional Park has been closed since Pine Bluff experienced historical flooding in May, and facility director Jason Hooks is hoping that the remaining work can be completed over the next few months so he and his staff can reopen the facility to the public.
"Right now, we are waiting on a little bit of work to start with our electrical and plumbing repairs. I just got word today that those contracts have been finalized and awarded, so we will work on getting those contractors down here and have an on-site meeting before they start working to kind of prioritize some of our projects and areas to start on," said Hooks. "Some of our other repairs we have had to put on hold until we can get that electrical work done, then we can move on to getting the classroom remodeled because we had to go through and gut it. We are going to have to get the air conditioner and heater replaced in it as well, but we have got to get that electrical work done first."
Hooks said that there are parts of the facility that he and his staff have been able to work on while waiting for the electrical work to be started.
"We've been working on a lot of stuff kind of inside of the building a lot," Hooks said. "We've been painting a lot in the gift shop and the lab and working on kind of reorganizing both of those and give them a fresher look."
There are a few large jobs that have already been completed as well.
"Some of the big stuff we completed so far; we got some repairs done to our backup generator that needed to be done," said Hooks. "We got out HVAC system updated. Not replaced, but updated, and it's functioning really well. We're not having near the problems we had been having out of it. We had the insulation replaced under the building that got damaged in the flood, so we have got that project completed. Then the staff here at the center, we've been working on a lot of painting and reorganizing some stuff. We've tried to work on the trails some to get them clear. On our primitive trail we've been cutting some of the trees and repainting some of the markers on the standing trees. Then this week the river came up seven foot, so some of that work we will have to go back and redo. We have picked up trash and litter from the flood along all of the trails. Of course, now we will have to go back and do some of that again."
Hooks said that he believes that more work can now get underway with contracts being rewarded.
"I feel like we are getting to the point where we will really get rolling now on some of these projects now that some of the delays are over with," Hooks said. "We will have other delays with the weather and some of the projects we've got outside."
Hooks said that it is hard to put a finger on a possible reopening date for the facility.
"We had a meeting this morning to talk about some of the things we can do ourselves and the timing of it, and we're starting to have some of those discussions about a reopening date," Hooks said. "We have changed that at a couple of times. We thought at one time we might could be open by October or November and that got pushed back to February, and right now we are still kind of up in the air as to when we can be open. Until we can get some of this work done it's going to be hard to put a date to it"
Once a reopening date is set, Hooks said he and his staff may look at bringing in volunteers from the community to assist with a few jobs.
"Once we get closer, we may have volunteers come out and help us," said Hooks. "It may be picking up trash and litter the river has brought in from floods or being up like it is right now. It may be working in the flower beds and some of our native plant gardens."
Hooks is hoping the electrical and plumbing work can begin within the next couple of weeks.
"I'm hoping that work can get started hopefully in the next two week," said Hooks. "The contractors are ready to get down here, we were just waiting for those contracts to be finalized. Hopefully no other projects will come up that they have been working on so they can get down here quick."
Other areas that will need to be remodeled include the Eagle cages outside of the facility.
"That work still is yet to be completed," said Hooks. "We've been working on several designs and different locations at the facility. We've adjusted our plans a lot to try to speed things up and also to help on costs. We think we've got a plan for our layout. We're working on finding some contractors to put some bids in for those projects. We've got one coming out tomorrow to look at it and talk to us about it."
Hooks said that he has been reaching out to local businesses to see if they may be interested in providing supplies or sponsoring the Eagle cages at the facility.
"I've been trying to reach out to local businesses to see if anybody would be interested in sponsoring or donating supplies for that project," said Hooks. "We've had some verbal commitments, but nothing is set in stone yet."
Hooks also spoke about some of the things that have
"It comes and goes. At first, we were putting a lot of sources and manpower into coming up with a plan and trying to get things going. After a while the new and the shock kind of wore off it and we seemed to lose some momentum with our support from within our agency and we hit the holidays and a lot of people were gone," said Hooks. "Now that we are back into the new year, I think we will get some of those resources back and be able to put the focus on all of this that we need to."
Hooks said that a lot of work has gone into the 3D archery range located behind the Nature Center as well.
"Another project we have been working on while we have been closed is expanding our 3D archery range," said Hooks. "We've been working with some guys from the Pine Bluff Bowhunters Association and some local bowhunters. Before we had 10 targets, and now we have 24 targets out there. When we get opened back up that will be available to the public, and hopefully we can advertise and increase our participation at it. We saw quite a bit of increase in participation before we got flooded. We were starting to get quite a few folks to shoot that course. With the addition of those other targets we think it will be a really good update and really good for local archers."
While no reopening date has been set, Hooks is hoping to be open by late spring or early summer.
"We want to open as quick as we can, but we also want to get as much work done as we can," Hooks said. "Some of those contracts we have got run until the end of April which is a little bit further out than we would like, but it is hard to say right now."
Photos of the flooding come courtesy of the Delta Rivers Nature Center Facebook page.