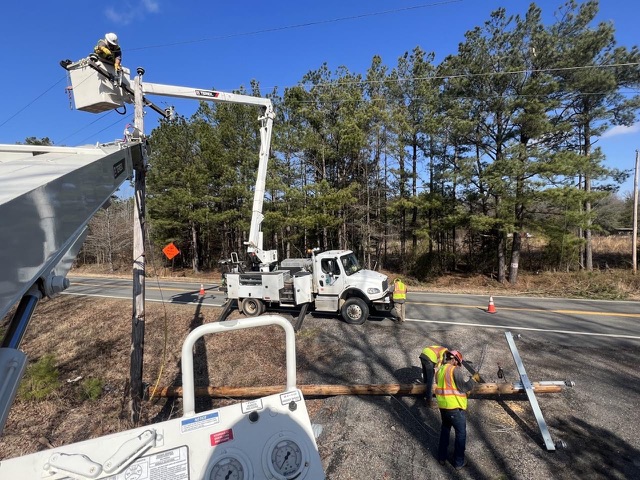 C & L Electric has provided the following update on power outages in Southeast Arkansas:
There are currently 10,048 outages on our system. About 47% of our system is currently without service.
Crews continue restoring power to distribution lines across most of the area. (Step 3 in Restoration Process Overview)
Restoration Process Overview
1. Repair Transmission lines in/out of substations.
2. Substation Inspection/Repair
3. Restore distribution lines (3 Phase > single phase)
4. Restore tap lines from distribution
5. Restore individual service lines into member homes.
Outages by County
Arkansas County – 0%
Bradley County – 9%
Cleveland County – 70%
Dallas – 97%
Desha – 0%
Drew – 35%
Grant – 39%
Jefferson – 77%
Lincoln –64%
During the restoration process you may receive a call stating that your power is back on. This is an important part of the restoration process. Clearing out calls along the way helps narrow our problem areas. For example, if a distribution line has been cleared and re-energized, we might close all the calls on that line to determine which taps are still off. It is important that you follow the prompts accordingly. This notifies our dispatchers in a timely manner that your power is still off.
To speed up the restoration process to your home, examine your weatherhead, meter box, and conduit from our service line into your home. If damage is found, call an electrician to make necessary repairs so that you will be ready to receive energy once power is restored. https://www.clelectric.com/meter-loop-specifications
Thank you for your patience as we work to restore power to all of our members.