Moncrief To Be Honored During LSU Game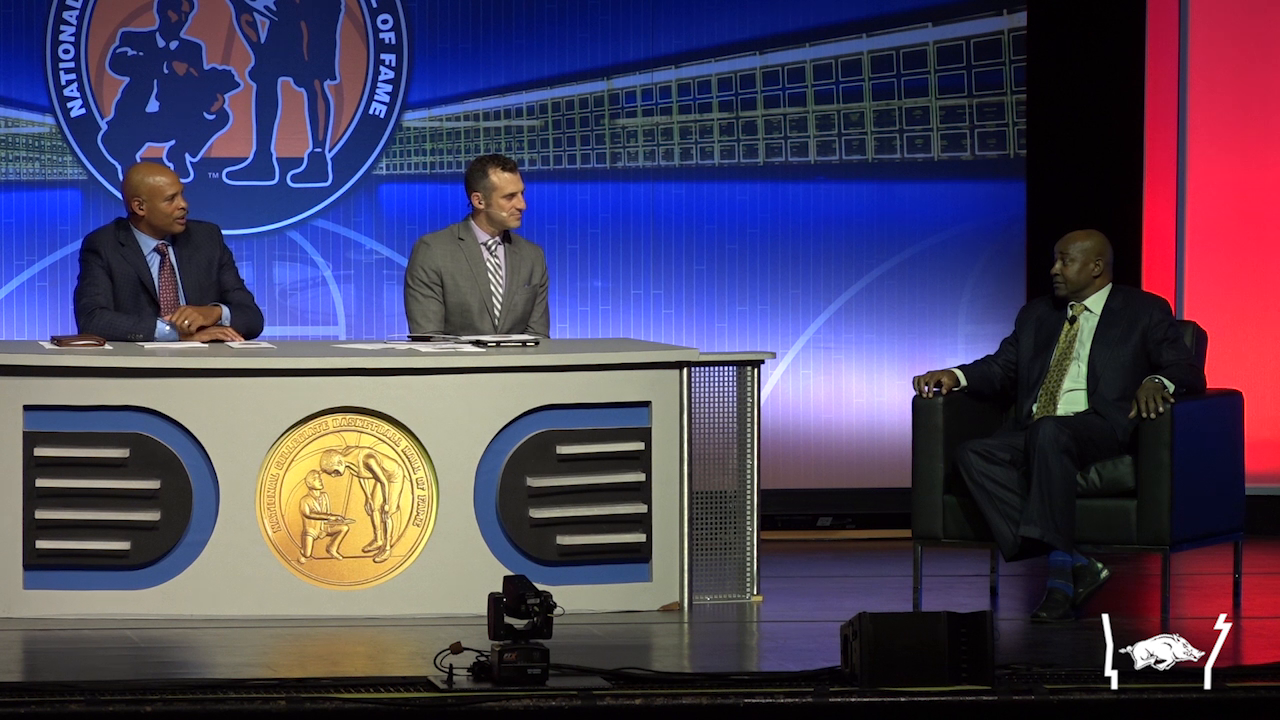 FAYETTEVILLE – Arkansas legend Sidney Moncrief will be honored at Saturday's men's basketball game at Bud Walton Arena for his recent induction into the National Collegiate Basketball Hall of Fame. Moncrief will be recognized with a pre-game video tribute and a presentation during the Arkansas-LSU game. Tip-off for the game is set for 5:00 pm.
Moncrief was inducted as part of the 2018 class of the National Collegiate Basketball Hall of Fame on November 18 in Kansas City, Missouri. Others inducted in the 2018 class were Arizona's Sean Elliott, Houston's Otis Birdsong, North Carolina's Sam Perkins, Morgan State's Marvin Webster and USC's Paul Westphal will join former Charleston coach John Kresse and former Oregon Tech coach Danny Miles.
Moncrief became the third Razorback to be inducted into the National Collegiate Basketball Hall of Fame, joining his former coach Eddie Sutton who was selected in 2011 and Nolan Richardson who entered in 2008. All three Arkansas legends have a banner hanging in the rafters of Bud Walton Arena.
One of Arkansas' famed "Triplets", Moncrief ended his career at Arkansas with the second-most points in program history, scoring 2,066 points from 1976-79. He poured in 600-plus points each of his last two years in Fayetteville, one of just four Razorbacks to score more than 600 points during two separate seasons.
Moncrief helped lead Arkansas to two Elite Eight appearances and the 1978 Final Four, when the Razorbacks recorded Arkansas' first of five total 30-win seasons in program history, going 32-4 overall. A 14-time All-American, Moncrief's name is scattered all through Arkansas' record book. He still ranks sixth in scoring average among Razorbacks at 16.9 points per game in his career. He also ranks second in field goal percentage in a career at 60.6 percent, while holding the school record in free throws made (588), free throws attempted (752) and rebounding (1,015) in a career.
He was named All-Southwest Conference his last three years as a Razorback, while being named to the 1978 NCAA Tournament All-Regional West Team and to the 1979 All-Regional Midwest Team. Moncrief was drafted fifth overall in the 1979 NBA Draft to the Milwaukee Bucks, where he spent his first 11 NBA seasons, before finishing his career in Atlanta in 1990-91. The Little Rock native was just the second Razorback in school history to be selected in the first round of the NBA Draft and remains as the only player to be taken in the top five.
While in Milwaukee, Moncrief earned All-NBA first team honors once (1983) and second team honors four times (1982-85 and 1986). The five-time All-Star was also named to the NBA's All-Defensive first team four years (1983-86) and second team in 1982, along with earning NBA Defensive Player of the Year honors two seasons (1982-83 and 1983-84). During his 12-year NBA career, Moncrief averaged 15.6 points, 4.7 rebounds and 3.6 assists per game.
by: Kevin Trainor