Charles Harris the 3rd is the recipient of the ninth McLarty Drives Education Scholarship of the 2018-2019 school year and is an asset to the Pine Bluff School District.
The school year has come to an end for students across the state, and the winner of the last McLarty Drives Education Scholarship is a senior from Pine Bluff High School with big dreams for the future. Harris received a $2,500 check from McLarty Automotive Group for standing out in the classroom, and in the community.
Harris was a 2018 Boys State Delegate and has been active in many extracurricular activities. He's a member of his church's youth ministry, donated time to a local soup kitchen, played on the school basketball team, and was involved in Beta Club and the Math Club.
"I see myself as a role model in my community and for my brother, so I just want to look up to me and see all the good things I'm doing for my community", says Harris.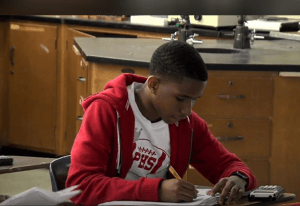 Charles will attend the University of Arkansas at Pine Bluff (UAPB) in the fall, to soak in the full college experience. At UAPB, Harris says he plans to major in Industrial Technology.