McKnight drops game-high 29 points as UAPB falls 76-60 to San Diego State in season opener
SWAC Player of the Year shines in senior season debut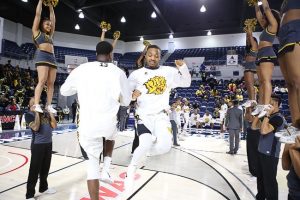 Martaveous McKnight finished with 29 points and hit five 3-pointers in the season opener against San Diego State.
SAN DIEGO, Calif.
– Arkansas-Pine Bluff trailed by just seven points at halftime before eventually falling to San Diego State University by the score of 76-60 in its season opener.
Fast break points
-Senior Martaveous McKnight, the reigning SWAC Player and Newcomer of the Year, finished with a game-high 29 points and was 5-of-10 from 3-point range
-McKnight attempted 26 of his team's 56 shots
-The Golden Lions trailed by just seven points at halftime
-UAPB finished with nine fast break points
-Devin Watson finished with a team-high 20 points for the Aztecs and was 6-of-10 from downtown
-UAPB missed only one free throw per half (12-of-14 for the game)
-Sophomore Terrance Banyard was the only other Golden Lion to score in double figures as he chipped in with 11 points
-Sophomore transfer Shaun Doss hit 4-of-5 free throws
-Senior guard Charles Jackson was perfect from the free throw line (5-of-5) but only hit one bucket from the field (1-of-8)
-McKnight finished with a team-high eight rebounds
UAPB (0-1) returns to action on Saturday, November 10 as it travels to Colorado to face Colorado State University in non-conference action. Tip-off is set for 4 p.m. in Fort Collins.