The Sheridan Yellowjackets will have a new head coach in Larry McBroom leading them onto the field this fall. McBroom comes from Oklahoma and Texas where he put together a successful resume as a head coach, winning several state titles.
McBroom spoke to Deltaplex News about what led him to retire as a head coach in Texas then make the move to Sheridan.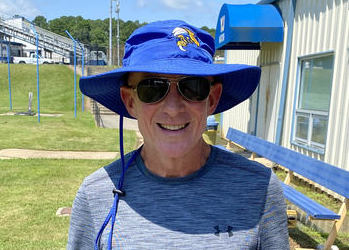 "My daughter, son-in-law, and grandson moved here a little over two years ago and my wife and I was living in Arlington, Texas and I was coaching at a large school down there and my wife came in after they had been gone about two weeks and said that she wasn't going to go without being with her grandson," said McBroom. "She suggested that I retire and move here. We did and we came thinking we would be able to work part time helping the football team. That didn't work out, so I just volunteered for two years and tried to help as much as I could."
McBroom assisted on Lance Parker's teams for the Yellowjackets, then when Parker resigned in the spring McBroom's name began to pop up on the radar of Sheridan athletic director Matt Scarbrough.
"We are beyond excited to get a guy with the resume and the experience of Larry McBroom," said Scarbrough. "It's not every day that a high school gets the opportunity to bring in somebody with that much knowledge about football. On top of that, just his compassion and his energy to coach young men. He is a man of good character and integrity. We are beside ourselves and overjoyed about getting him."
Scarbrough said that having McBroom as a volunteer assistant the past few years certainly played a part in the decision to talk him out of retirement to lead the Yellowjacket football program.
"Every time you go to hire a position as high profile as the head football coach for your high school football team, things are as high profile as those jobs are for a school district, every time the situation always requires you to be looking for a specific thing," Scarbrough said. "When you look at what the pandemic has brought to us where we haven't been able to be around our kids, and with an idea situation where we could begin a search in January then have a coach on campus at the beginning of March where he would be able to conduct spring football and the kids could get to know him a little bit. Obviously with our situation this year, that wasn't going to happen. So, the fact that he knows the kids, knows the coaching staff, and the kids love him here – he is highly respected by the players. That certainly played into the decision for sure."
McBroom also spoke about his decision to come out of retirement to lead the Yellowjackets.
"When Lance decided he was going to leave in May they came and asked me if I would consider coming to lead the program," said McBroom. "After giving some careful thoughts and prayer to it we decided it would be a great opportunity and a real blessing for us to be able to continue working with these coaches and players who try so hard."
There were several players on the team who went to bat for McBroom, saying they believe he was the man for the job. McBroom gave his thoughts on what that means to him as a coach.
McBroom also spoke about the goals he has in his first year as head coach of the Yellowjackets, and how he plans to utilize the upperclassmen on the team.
McBroom also spoke about what he will be looking for out of the Yellowjackets as they take on Malvern in Thursday night's benefit game.
"We want to see that we will fly to the ball on defense and will give great effort," said McBroom. "We want to see that we will take great angles and do the little things right defensively. On offense we just want to execute our base offense and see how the linemen get off the football as fast as they possibly can, and that we give effort until the whistle blows. You can't just turn the switch on when it comes to conference games and start performing then, it is something that has to become a habit that you do every time you get the opportunity you have to go onto the field."
McBroom also spoke about his message to the team regarding the current situation with COVID, and some of the protocol he and his coaches have the athletes going through each day.
The Sheridan Yellowjackets will host the Malvern Leopards Thursday at 6:45 p.m. in a benefit game.