By Ray King
A Jefferson County man who is currently on parole was arrested Friday after he failed to appear at a revocation hearing and faces new charges after drugs and a gun were found.
Whitney Fellows, 34, was taken into custody after sheriff's deputies went to Fellows' parents house in the 7800 block of Cross Road and saw Fellows standing outside near a vehicle with the door open.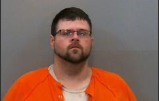 During a court hearing Monday, Deputy Prosecutor Jill Reed said when deputies searched the car, they found a purple Crown Royal bag hanging from the gear-shift lever. The bag contained a small amount of suspected marijuana, sandwich bags and what appeared to be dried mushrooms. Reed said those will be sent to the Arkansas State Crime Laboratory to determine exactly what they are. There was also a smoking pipe in the vehicle.
Sheriff's Investigator Cody Musselwhite reported that Fellows has a search warrant waiver on file and when deputies ask for permission to search his bedroom, his parents gave consent. In the bedroom, an unlocked safe was found and a loaded rifle was found in the safe.
Reed said Fellows was out on bond after charges were filed in a 2019 case and because of COVID-19, he has picked up three new cases and there are two additional criminal information charge sheets waiting to be signed by a judge, or six additional cases including the newest allegations.
Because of that, Reed asked for and Jefferson County District Judge Kim Bridgforth agreed to set bond for Fellows at $50,000 cash only on probable cause of possession of drug paraphernalia, simultaneous possession of drugs and firearms and possession of a controlled substance with purpose to deliver marijuana. An additional drug related charge may be filed after investigators determine what the dried mushrooms are.
Although a bond was set on the latest allegations, a parole hold has been issued for Fellows and he will not be able to post a bond pending a hearing to determine if he should be sent back to prison. Fellows said he would hire his own attorney.