By Ray King
An investigation into alleged drug activity at a house on the east side of Pine Bluff Tuesday resulted in the arrest of a man on multiple charges.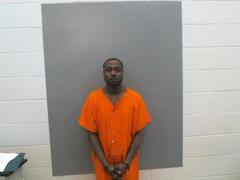 Ronald Maxwell, 32, was taken into custody after police vice and narcotics officers and the department's SWAT team served a search warrant at a house in the 1500 block of Belmont Drive.
During a court hearing for Maxwell Thursday, Deputy Prosecutor Caleb Conrad said Maxwell was arrested in the back yard of the residence, and after officers got no response to a knock on the door, forced entry into the house.
Detective Kevin Kirk reported that detectives located two black digital scales and several bags of suspected marijuana in the southwest bedroom along with a large amount of cash that was in a box and inside a shoe.
They also searched a black Dodge vehicle that was at the house and found three bags of suspected marijuana in the vehicle, a duffle bag containing 10 bags of suspected marijuana in the trunk and a loaded handgun under the duffle bag.
Kirk reported that an ATV which was found at the house was checked through the Arkansas and National Crime Information Center databases and it had been reported stolen in Baxter County.
A total of $6,884 in cash was seized at the house and the suspected marijuana tested positive for THC and weighed a total of $6,320 grams. It will be sent to the Arkansas State Crime Laboratory for analysis.
Conrad said Maxwell has two prior felony convictions for residential burglary and theft of property and has drug related charges pending.
Pine Bluff District Judge John Kearney set a $30,000 bond for Maxwell after ruling prosecutors have probable cause to charge him with possession of a controlled substance with purpose to deliver, possession of drug paraphernalia, simultaneous possession of drugs and firearms, felon in possession of a firearm and theft by receiving.
Maxwell said he would hire his own attorney.