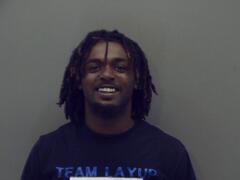 By Ray King
A reported shooting at a house on the east side of Pine Bluff resulted in the arrest of a 19-year-old man Tuesday.
Jason Lawrence was taken into custody after police saw him start to get into the driver's seat of a vehicle that a witness to the shooting had told police about.
During a court hearing Thursday, Deputy Prosecutor Jay Gerard said an officer was sent to the 2100 block of State Street where the owner of a house reported that when she got home, she found the house had multiple bullet holes in it.
Detective Jason Boykin reported that a witness told police they had seen the shooting and said the driver of a grey Chrysler 300 had pulled up, fired multiple shots, then drove off. A BOLO was put out and at about 8:10 p.m., Detectives found a car matching the description at a gas station on University Drive.
After watching a man start to get into the passenger seat and Laurence start to get into the driver's seat, Detectives detained both men. Laurence refused to make a statement but the passenger agreed to talk to officers and Gerald told the court what the passenger said.
Gerard said Lawrence has pending charges of second-degree sexual assault in circuit court.
Because of the pending charges, Pine Bluff District Judge John Kearney set a $75,000 cash-only bond after ruling prosecutors have probable cause to charge Lawrence with committing a terroristic act and with discharging a firearm from a vehicle. Lawrence said he would hire his own attorney.