By Ray King
A $1,500 bond was set Friday for a White Hall man who previously pled guilty to misdemeanor domestic battery after he was arrested on the allegation a second time.
Jefferson County District Judge Kim Bridgforth set the bond after ruling prosecutors have probable cause to charge Joseph Hankins, 49, with second offense third-degree domestic battery, a Class D felony.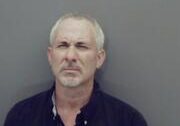 During the court hearing Friday, Deputy Prosecutor Jay Gerard said White Hall officers were sent to a house in the 700 block of Hulse Road Wednesday where they talked to the alleged victim.
When Hankins was questioned, he said he woke up and found that someone had gone through his clothing and looked at his personal items. He also denied having any physical contact with his wife.
Hankins said he would hire his own attorney and was ordered to have no contact with his wife until the case is settled.