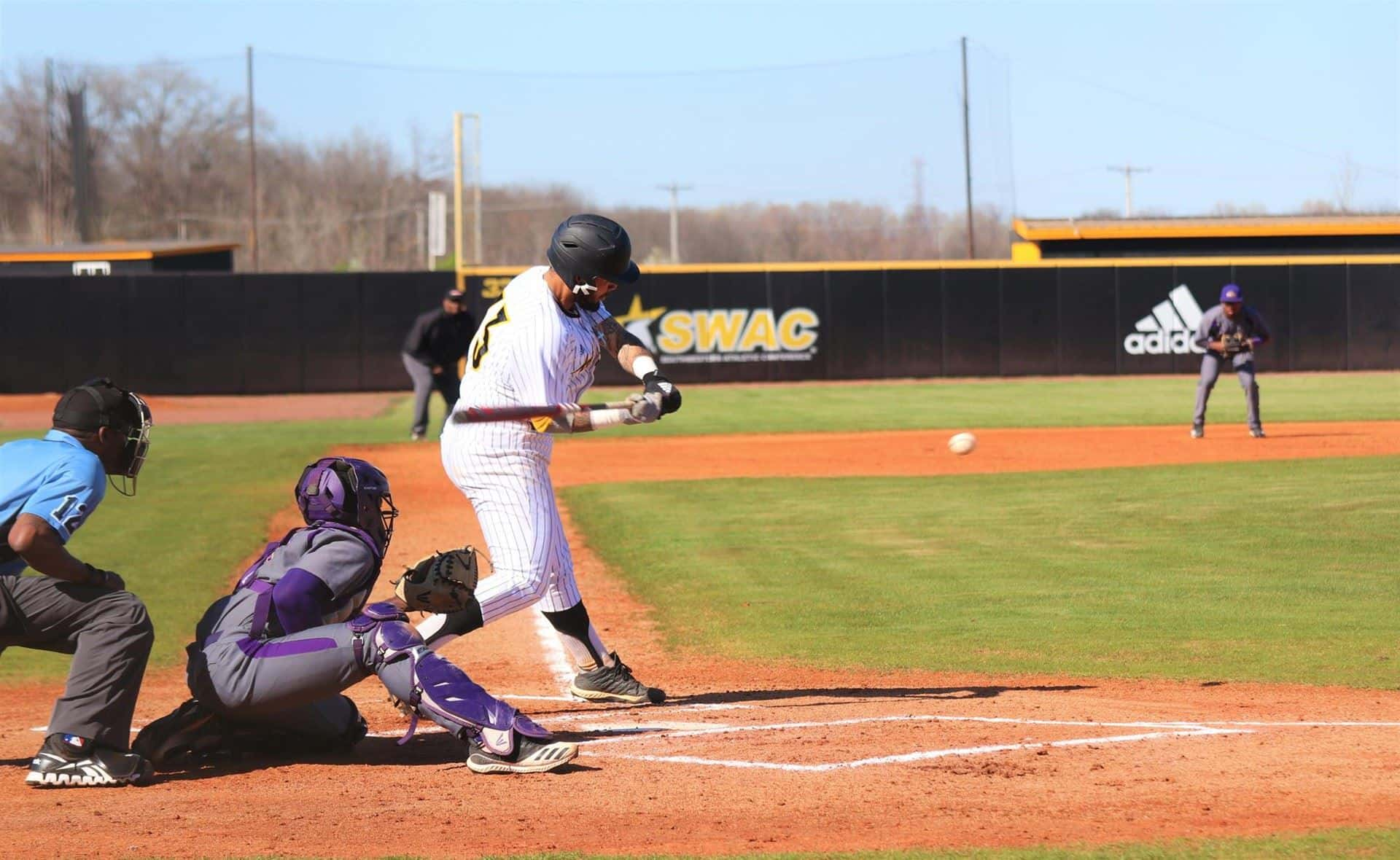 The University of Arkansas at Pine Bluff baseball team stormed back from a 5-0 deficit to secure the series win over Prairie View A&M with a 10-6 victory in front of a great crowd at the Torii Hunter Baseball Complex at Bill Jones Field.
The Panthers jumped out to a 5-0 lead, scoring two runs in the top of the first and third inning, and one in the top of the seventh.
The Golden Lions responded with one run in the bottom of the seventh. Senior Justin Robinson walked, then stole second and advanced to third on an error.  Junior Jackson Rehkow singled to left field, scoring Robinson to cut the lead to four at 5-1.
One inning later, the Panthers would go on to push their lead to five in the top of the eighth, at 6-1, before the Golden Lions went on a rally, scoring nine runs in the bottom of the eighth to put the score at 10-6 to take their first lead of the game.
The Panthers got into some trouble down the stretch with three straight walks with the bases loaded and one out. Freshman Adian Martinez was hit by a pitch, scoring Brandon Simon, who got on earlier with a walk, to put the score at 6-2. With the bases still loaded with one out, Hence was hit by a pitch, scoring  Robinson, who reach earlier with a single to shortstop to cut the lead to three at 6-3.
On the next at-bat junior Kacy Higgins was hit by a pitch, scoring Rehkow, who reached earlier on a fielder choice to put the score at 6-4.
Junior Humberto Maldonado put the team on his back and connected on his second home run of the season with a grand slam over the left-field wall, scoring Higgins, Hence, and Parker, who pinch ran for Martinez to give UAPB an 8-6 lead.
With the momentum still going, senior Austin Krzeminski was hit by a pitch, before Simon blasted a two-run shot over the left-field fence to put the game away 10-6 for the Golden Lions to clinch the series.
Humberto finished 3-for-4 with four RBIs and one run in the contest. Simon added two RBIs and one run, followed by Higgins with two hits.
Sophomore Will Smith picked up his first win of the season for the Golden Lions, going 3.0 innings with two strikeouts.
The Golden Lions will be back in action Tuesday to face Eastern Illinois at 2 p.m. at the Torii Hunter Complex for a two-game series.