Lions In 4th Place After Day One Of Tightly Contested SWAC Championship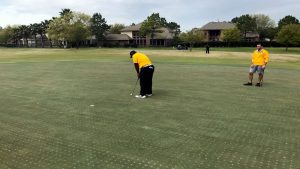 ALEXANDRIA, La. – The University of Arkansas at Pine Bluff men's golf team is only 11 shots off the lead after a day one of a tightly contested opening round of the 2019 Southwestern Athletic Conference Championship at Oak Wing Golf Course.
The Golden Lions posted a team score of 310 and are 11 shots behind defending champion Prairie View A&M, four shots behind Alabama State, and one shot behind Texas Southern.
Tristan Maharaj and Niklas Frimodig each shot three-over 75 to lead UAPB and are tied for third in the individual rankings. Grayson Martin shot six over 78, Joshua McCray shot 82, and Dustin Maenaga posted 86 to complete the scoring for the Golden Lions.
The second round of the tournament begins Tuesday at 8 a.m.