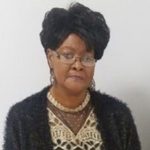 Lillie Beatrice Smith was born October 7, 1952 in Silver Lake, Arkansas east of Dumas to the late Nathaniel and Lillie Ruth Stewart-Smith.  She departed this life Thursday, March 12, 2020 at Drew Memorial Hospital in Monticello, Arkansas.
Lillie attended and graduated from Reed School, where she was a member of the School Band.  She was a skilled player, she not only played the clarinet but also the baritone Saxophone.  She also attended to Capital City Business College in Pine Bluff, Arkansas.
She confessed a hope in Christ at the age of eight and was baptized at Pleasant Hill #2 Missionary Baptist Church at Back Gate.  Lillie later moved her membership to St. John Missionary Baptist Church in Mitchellville, Arkansas where she was a faithful member of the Choir.  She remained faithful until death.
Lille was preceded in death by her parents; Nathaniel and Lillie Ruth Smith and a brother Leroy Smith.
She leaves to cherish her memories one son Steven (Tanya) Mitchell Sr. of Monticello, Arkansas, three daughters; Kimbla Calvin of Mitchellville, Arkansas, Tanya Pugh and Krystal Kennedy both of Dallas, Texas.  Two brothers; Johnny (Vira) Smith, SR. of Dumas, Arkansas and Charles (Linda) Moye of Kansas City, Missouri.  Her beloved twin sister Annie Marie Griswold of Mitchellville, Arkansas, her life long friend.  One Aunt Rosie Pickett of Dumas, Arkansas, twelve grandchildren and nine great grandchildren. Special nephews and niece; Marvin Griswold, Jeffery (Taushia) Griswold, and Michelle (Brandon) Griswold-Davis and a host of other nephews, nieces, cousins and friends.
Visitation will be Friday March 20th from 3:00 PM – 6:00 PM at Serenity Gardens Funeral Home, 136 State Hwy 159 North Dumas, Ar 71639
Funeral Service will be Saturday March 21st at 11:00 AM at Harvest Time Ministries, 316 Nelson Street Mitchellville, Ar 71639