Late Run Not Enough vs. Gators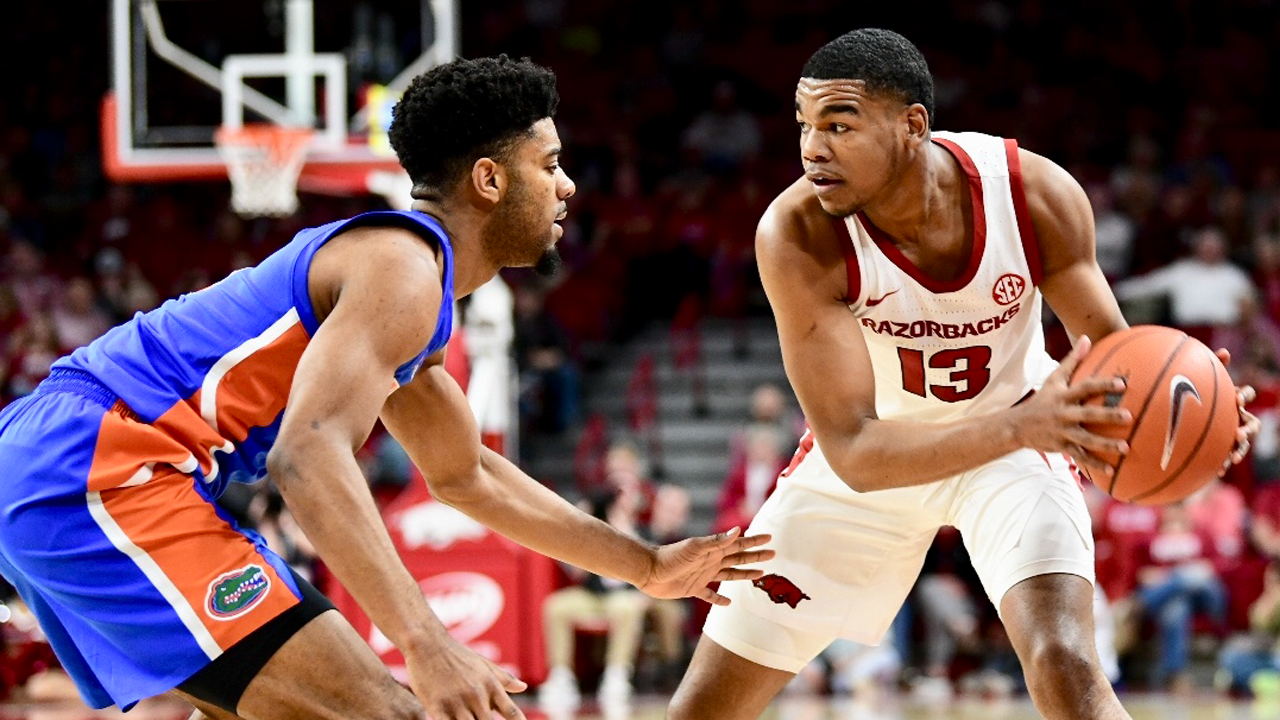 FAYETTEVILLE — Mason Jones scored a career-high 30 points and played a key role in a 15-2 run late in the game to get the Razorbacks to within two (53-51) with 1:02 left, but the Florida Gators made four free throws inside the final 12 seconds to get a 57-51 victory.
Arkansas was down 15 (51-36) with 6:11 left before Jones scored 11 points (six free throws, a jumper and a 3-pointer) to trim the Razorbacks' deficit to two, 53-51. Jones capped the 15-2 run with two free throws with 1:02 left.
On the ensuing possession, Arkansas' defense got a stop on the defensive end as Daniel Gafford pulled down his 12th rebound of the contest. The Razorbacks then had two chances to tie the game, but Jones' jumper missed with 24 seconds left and Adrio Bailey's put-back rimmed out.
Arkansas was forced to foul and Kevaughn Allen sank two free throws with 12 seconds left to give the Gators a four-point lead. Arkansas came up empty again before Allen made two more from the charity stripe to secure the six-point win (57-51).
Allen finished with 18 points, including 11-of-12 at the free throw line. Overall, Florida was 15-of-19 while Arkansas was 15-of-26.
Arkansas will stay home to face LSU on Saturday (Jan. 12). Tip-off is set for 5:00 pm and the game will be telecast on the SEC Network.
FIRST HALF: Arkansas 22 – Florida 33
Arkansas got off to a quick start – leading 6-2 – but went 7:30 without scoring. However, Arkansas' defense kept the Razorbacks in the game as Florida only led 12-6 with 8:20 left. Daniel Gafford ended the drought with a made free throw to make it a five-point game, 12-7.
Mason Jones hit back-to-back 3-pointers to get the Razorbacks to within one twice, 15-14 and 18-17.
Both teams struggled offensively in the first half with Florida shooting 31.3 percent with just four assists and Arkansas shot 28 percent with six assists.
Mason Jones led Arkansas with 13 first-half points while Daniel Gafford had seven rebounds.
SECOND HALF: Arkansas cuts 16-point deficit to two with 1:02 left.
Arkansas was down by 16 (48-32) with 9:13 left. The Razorbacks were also down 15 (51-36) with 6:11 left.
From that 15-point deficit, Mason Jones scored 11 points in a 15-2 run to make the score 53-51 in Florida's favor with 1:02 left.
Jones made six free throws and two field goals during the run while Adrio Bailey and Daniel Gafford each added lay-ups.
 GAME NOTES:
Arkansas' starters were Isaiah Joe (G) – Jalen Harris (G) – Mason Jones (G) – Adrio Bailey (F) – Daniel Gafford (F). This has been the starting lineup in 13 of Arkansas' 14 games.
Florida controlled the tip. Daniel Gafford scored the first points of the game, a lay-in off a Jalen Harris pass at 18:54.
Beginning its 28th season in the Southeastern Conference, Arkansas is 18-10 all-time in SEC home openers.
The 51 points were the lowest by the Razorbacks in the Mike Anderson era and the lowest over since falling to Auburn 73-51 on Jan. 24, 2009 in Bud Walton Arena.
Arkansas' bench did not score a point, marking the first time that has occurred since the Razorbacks joined the SEC (HogStats.com).
In scoring his career high 30 points, Mason Jones made a career-high seven field goals and set career highs in free throws made (12) and attempted (13).
For the third time this season, Jones led the team in both scoring (30) and assists (3, tied) in the same game. Overall, he has led the team in scoring a team-best six times and led the team in assists four times.
Jones in the second Razorback to score at least 30 points this season, joining Isaiah Joe's 34 versus FIU. It is the 119th time a Razorback has scored at least 30 and Jones is the 47th Razorback to accomplish the feat.
Gabe Osabuohien had a career-high eight rebounds in 14 minutes of play before fouling out with 6:57 left in the game.
Isaiah Joe took two charges to give him 10 for the season, tying Gabe Osabuohien for the team lead.
Gabe Osabuohien was the first sub off the bench. He has been the first sub (solo or tied) in 12 of the 14 games this season.
For the first time this year, both Isaiah Joe (6 points) and Daniel Gafford (9 points) did not reach double digits in scoring. Both Joe and Gafford had scored in double figures in each of the first 13 games.
by: