KINGSLAND – On Friday, November 30, 2018, Kingsland Elementary second grade teacher Tasha Wilson was standing on the sidelines for what she and everyone else in the Kingsland School auditorium thought was an assembly to recognize her school's selection as a 2018 National Blue Ribbon Award winner.
But little did the Wilmar native know that it was all a front to present her with a $25,000 cash prize for being selected as Arkansas' 2018-19 Milken Educator Award recipient, making her one of up to only 40 educators nationwide to be recognized for the award.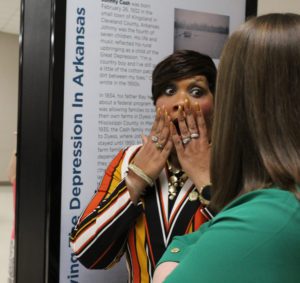 According the Milken Family Foundation, Milken Educators are selected in early to mid-career for what they have achieved and for the promise of what they will accomplish. The program, based in Santa Monica, CA, was started in 1982 by Michael and Lowell Milken.
In addition to the $25,000 prize, Watson is also granted membership into the National Milken Educator Network, a group of more than 2,700 top teachers, principals and specialists who have selected for the award. Wilson will also receive a trip to the Milken Educator Forum to be held March 21-24, 2019, in New Orleans.
The Milken Educator Awards pulled out all the stops in recognizing Wilson for what Teacher magazine refers as to the "Oscars of teaching."
U.S. Sen. Faye Boozman was in attendance as well as Arkansas Education Commissioner Johnny Key and Milken Educator Awards senior vice president Dr. Jane Foley, a former Milken winner herself from Indiana.