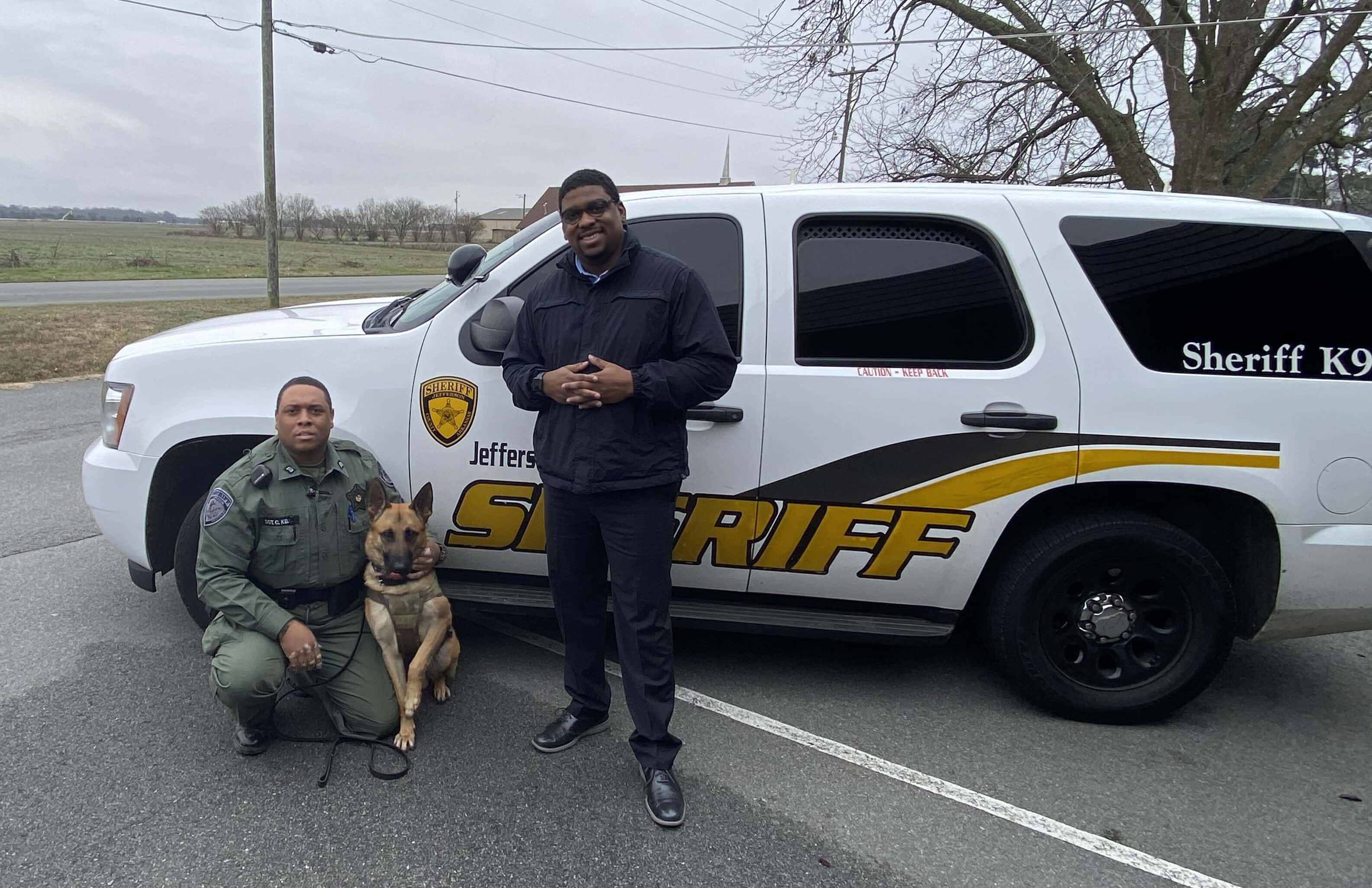 The Jefferson County Sheriff's Office has had a tremendous amount of success with suspect apprehension and more since adding K-9 Deputy Soder to the force in October. Sgt. Soder, a Belgian Malinois from Hungary, was acquired back in October for about $14, 500.
Sgt. Soder has been used in numerous suspect apprehensions, is used in the serving of warrants, and in many other avenues for both the Jefferson County Sheriff's Office and other local law enforcement agencies.
Jefferson County Sheriff Lafayette Woods, Jr. and K-9 handler Sgt. Courtney Kelly spoke with Deltaplex News about the duties of Sgt. Soder and more.
Kelly said that Soder is the best K-9 he has been able to handle in his career.
"It has been ecstatic. He is a really good dog. I've had a dog before, and by far, there is no comparison," said Kelly. "He is a hard worker and he is a go getter."
Kelley said that Soder is very helpful in key situations when a suspect needs to be apprehended, during searches, and more.
"He is very, very helpful," Kelly said. "Pound for pound you can't match his help versus human help. Pound for pound there is just no comparison. If you run, he is going to get you."
Sheriff Woods gave his thoughts on investing in the K-9 program in order to bring Soder into the department.
"My career has expanded just over a decade and dating back to 2004 when I first started with the sheriff's office and back to the late 1990's we always had some trial versions of K-9's in different capacities, specifically always assigned to our uniformed patrol division. Just understanding the rewards for having and the benefits for having a K-9 that's assigned, from so many different facets there is a plethora of benefits of having a K-9 for the department from search and rescue to protection and suspect apprehension. As Sgt. Kelly stated, pound for pound, bar for bar there is no comparison to what these animals do and how valuable to our agency and other agencies."
Woods said that Sgt. Soder is also valuable as a partner for Sgt. Kelly while out on patrol due to everything that they can face on a daily basis.
"When he is riding with Sgt. Kelly there is no telling over the course of a shift what he may encounter," Woods said. "There are so many different scenarios that could come up that he would have to respond to. We don't have the luxury of having the manpower where we can run two-man units, so (Sgt. Kelly) is very fortunate to have a partner with him. That partner, there is no way to compare him to a human in the things that he can do. Just the sense of awareness that he has when he is riding with Sgt. Kelley, the bond they share just so quickly from going through training, and more importantly not having that sense of fear. I don't think Soder has a sense of fear. He is head on, and he is ready to go to work at any time."
Kelly spoke about the ways that he and Soder will interact with various members of the community on a daily basis.
"Throughout the say I and Soder interact with a lot of different people," Kelly said. "We may see a group of kids then stop to talk to them. They want to pet him. We will visit with people and stop by local businesses to let Soder go in to meet the people. We will show him at the courthouse and our dispatch center, and local barber shops. We will just stop by and visit people and interact with people throughout the day."
As noted, Soder has been utilized in some key situations for both the Jefferson County Sheriff's Office and other local law enforcement agencies.
"He's been used in narcotics sniffs, we've used him in search warrants, he's been used in suspect apprehension, and he's been used in vehicle sniffs," Kelly said.
Woods said that with the success Sgt. Kelly and Sgt. Soder have had together, he is looking at adding a second K-9 to the force.
"Absolutely. We have generally always run dual-purpose K-9's simultaneously to make sure we can cover as much of the shifts as we possibly can within a 24-hour day, seven days per week," Woods said. "So, with that being said, we are already working now on being able to identify our next handler to actually join our K-9 program. I hope that Sgt. Kelly can assist with making sure that individual is comfortable. They will also go through some specific training as it relates to their K-9 as Sgt. Kelly did when he first became a K-9 handler. We're looking right now. We've got enough funds or are close to having enough funds to be able to get our second dog. Just right now we are trying to identify who that handler is going to be."
Woods said it takes a special Deputy to be able to be a K-9 handler.
"A handler has to be someone who is situated where they have the understanding that those K-9's become a part of your family," Woods said. "They go home with them, they spend 24-hours a day, seven days a week, 265 days per year with that handler. They become inseparable, so you've got another member of the family essentially. Somebody who doesn't want kids probably wouldn't be a good K-9 handler, to put it in better terms. The benefits are great, and we are looking forward right now to being able to identify who our next handler is going to be."
Woods also spoke about the skills that Sgt. Kelly exhibited when he was selected to be the handler of Sgt. Soder.
"There were several unique things that we could see," Woods said. "Having Sgt. Kelly with the K-9 family is a return for us with him rejoining us. He had previously worked for us in the K-9 capacity as a handler. So, we knew then early on what his work ethic was, how vigilant he was as it relates to narcotics. He is one of the ones to take the bull by the horns and is unmatched when it comes to his expediency. When he comes out on his shift he gets right to work, and the diligence and the time he takes when it comes to his craft. Law enforcement you've got to have a love for. It is not a job, it is a career. We saw that very early on in him, so we were happy to have him showing interest in wanting to come back and rejoin the K-9 force. So, we know his skillset, his dedication, and his loyalty not only to this agency, but to his community in going out to service his community and providing those kinds of resources."
Kelly and Soder not only work for the Jefferson County Sheriff's Office, they also assist other agencies when they are in need.
"It's really not just here in our county, it is all around with State Police and other agencies," Kelly said. "We help everybody. If there is something going on, I and Soder are there. It doesn't matter if it is my off day. If something is going on and they need us, we are there."
Kelly said it takes more than just loving the job to be a K-9 handler.
"To be a K-9 handler you have to do more than just love your job," Kelly said. "You have to be completely dedicated because we are not just a regular deputy. We don't just get off at 5:00 and go home. When I get off, I have to go home and take care of him and get him situated. More times than not once we are home and situated, we get called back out. So, it has got to be something that you love to do, and your family has to understand what you do. It is more than a full-time job, but I don't consider it a job, I consider it having fun because this is what I love to do."