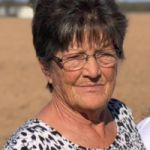 Judy Kathryn Jackson Jones 75, of Dumas passed away January 17, 2020 in North Little Rock, AR. She was born December 23, 1944 in Paris, AR to the late Huey and Edna Grimes Jackson and was a member at Victory Baptist Church in Dumas. Judy worked at Bassett Furniture for 20 years and one of Judy's favorite things to do was gardening.
She was preceded in death by her parents, a son Michael Evender Jones, one great grandson, Nicholas Brian Clemons, Jr., two sisters, Annis Webb and Ruth Jones.
Survivors are five daughters, Vickie Dutton of Star City, AR, Kathrin (Mike) Clemons of Dumas, AR, Cindy Jones (Jerry Scales) Watson, AR, Sheila (Jimmy) Smith of Lonsdale, AR and Tonya (Chad) Haynes of Hot Springs, AR: three brothers, James (Shirley) Jackson of Paris, AR, Charles (Brenda) Jackson of Clarksville, AR and Roy Jackson of Paris, AR: thirteen grandchildren and thirteen great grandchildren. Judy had a very special little fury friend, her Pomeranian, Lillie.
Visitation will be Monday, January 20, 2020 from 6:00-8:00pm at Griffin Funeral Home and services Tuesday, January 21 at 2:00pm also Griffin Funeral Home Chapel with Rev. Chad Haynes officiating with burial following at Watson Cemetery. Memorials may be made at donors' choice. Arrangements made by Griffin Funeral Home, Dumas, AR