JONES, DANIELS AND MCDUFFEY GARNER ALL-GAC HONORS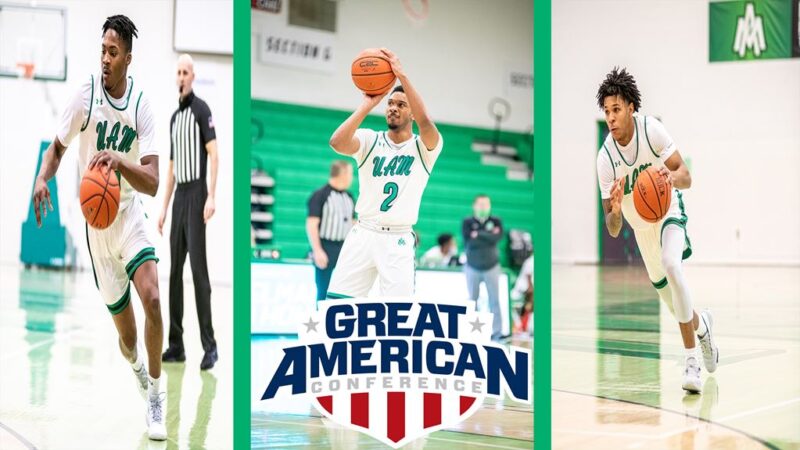 RUSSELLVILLE, Ark. – University of Arkansas at Monticello men's basketball players, Dajuan Jones, Miles Daniels, and Denzel McDuffey earned All-Great American Conference recognition, the league office announced Tuesday. Jones was a unanimous first team selection while Daniels and McDuffey garnered second team honors.
Jones earns the accolade after an impressive junior campaign in which he led the Weevils in assists and free throw shooting while averaging 13.2 points per game. He led the GAC in free throws made with 89 in the second most trips to the charity stripe in the league (110). He also spread the ball to his teammates efficiently ranking second in the conference in total assists (95) and assist-turnover ratio (2.38). His 5.6 assists per game was also good for second in the GAC and 15th in the nation. Jones also rarely left the floor rating third in minutes per game (36.0) in the conference.
Daniels received second team recognition after a solid showing on the offensive end leading UAM in scoring with 15 points per game. He led the GAC in every category beyond the three-point line shooting 43.9 percent while making 54 total threes averaging 3.18 per game. Those numbers all ranked in the top 26 nationally, as he finished 16th in total three-pointers made and 17th in three-point field goals per game.
McDuffey put together a strong season on both ends of the floor to garner second team honors. The Jackson, Mississippi native led the Weevils in rebounding (132), steals (27) and blocked shots (18) while finishing second in scoring at 13.6 points per game. He also ranked fifth in the league in steals per game (1.6) and blocks per game (1.1). On the glass, McDuffey pulled down the third-best rate of defensive rebounds per game (6.1).
The top-seeded Weevils will look to keep the 2021 season going in the GAC Tournament Wednesday, March 3, when they host fourth-seeded Southeastern Oklahoma State out of the Western Division at 7:30 p.m.