Join Us For Junior Spirit Day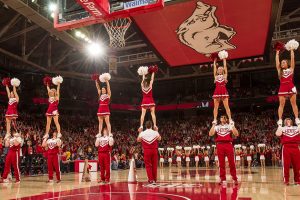 FAYETTEVILLE, Ark. — We've got spirit, how 'bout you!
University of Arkansas Jr. Spirit Day
Women's Basketball vs. South Carolina
Sunday, Feb. 3 at 4 p.m.
Open to Children Grades Pre-school to 8th grade
Hey young Razorback fans! Join us for Junior Spirit Day on Sunday, Feb. 3. The Razorback women's basketball team is hosting nationally-ranked South Carolina in a 4 p.m. tip in Bud Walton.
Junior Spirit Day includes: A ticket, t-shirt, pom-poms and halftime performance.
Check-in for the spirit day performance review will take place at the Basketball Performance Center across the street from Bud Walton Arena at 2:30 p.m.
Register your child by clicking here. Deadline to register is Friday, January 25 at 5 p.m.
For additional details regarding the clinic, contact Director of Spirit Programs, Brooke Bailey at [email protected] or call (479) 575-6534.
by: Jeri Thorpe