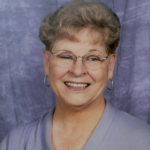 Jean Smith, 76, of Pine Bluff, was released from her earthly pain and suffering Wednesday night and went to heaven. She was surrounded in love by her family at her home.
Jean was born on February 21, 1944, to the late George and Lura Brown in Pine Bluff.
She grew up in Pine Bluff and graduated from Pine Bluff High School in 1962.
She married H.E. Smith on Dec. 15, 1966.
Before her marriage, she graduated from secretarial school and was a secretary. She was a homemaker during much of her marriage, but as her children became older she went to work at Olive Street Baptist Church's day care. She later worked at the Pine Bluff School District as a teacher's aide and as a cafeteria worker.
After her husband's death in 1997, she joined the Jack Jones Juvenile Detention Center, working in the kitchen. Besides food, she dished out love and firm guidance to the children who came through its doors. She called them "my little darlings."
She retired from full-time work in May 2015. But she missed the children, her beloved co-workers and being busy, and returned to work part time in 2016 and 2017. Due to health reasons, she retired permanently Dec. 31, 2017.
She was a member of The Bridge Church, after being a long-time active member at Hazel Street Baptist Church and Olive Street Baptist Church.
Jean loved to travel with her family, including trips to Disney World, Boston, and Branson, and going antiquing. She was happy sitting in her recliner reading a book with her two cats beside her. After retirement, she enjoyed going to the Strachota Senior Center where she made new friends and enjoyed the activities there.
Jean never met a stranger, quickly telling people that she was a hugger and enveloping them in a warm, sincere hug.
As one dear friend said, "She was a bright light in dark places for everyone around her." She brought joy and kindness to those who knew her and will be deeply missed.
She is survived by her daughter and son-in-law, DeAnn and Jeff Stead of Independence, Missouri, and son and daughter-in-law, Gregory and Jamie Smith of Pine Bluff, Arkansas, granddaughter, Bree Smith, her in-laws and many friends.
The family appreciates the care and support that Jean received from those who tended her with love at UAMS, JRMC, The Greenhouse Cottages of Southern Hills and Hospice Angels.
A graveside service will be 2:00 p.m., Monday, May 18, 2020 at Memorial Park Cemetery with Brother Mike Manning and Pastor Philip Ethridge officiating.
Memorials may be made to Hospice Angels, 3801 Camden Road, Chapel Village 1, Suite 12, Pine Bluff, AR 71603 or Jefferson County Humane Society, PO Box 2233, Pine Bluff, AR 71613.