James Named To Seminole State College Hall Of Fame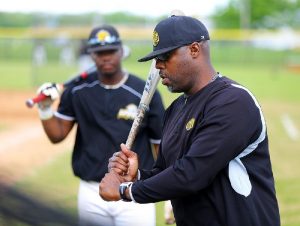 University of Arkansas at Pine Bluff head baseball coach Carlos James has been elected to the Seminole State College Hall of Fame.
James along with the Class of 2019 will be officially inducted on Thursday, April 25 in Seminole, Okla.
James was an outfielder at Seminole State in 1991 and 1992, helping the Trojans reach the National Junior College Athletic Association (NJCAA) World Series.
"Being voted into the Hall of Fame means a lot to me," said James, "The relationships that were formed there, especially being around Coach Lloyd Simmons and the things he taught me about being a man, are very important to me. It means a lot that the school recognized all the things it gave me that I was able to make an impression outside of baseball and outside of Seminole. I've taken the tools they gave me and have done some things that warrant being celebrated."
James, the Pine Bluff native who prepped at Pine Bluff High School, finished his collegiate playing career at the University of Arkansas. James graduated from UAPB and began his college coaching career with the Golden Lions from 1998 to 2001 before working as a scout for the Seattle Mariners. He was head coach at Arkansas-Monticello before coming full circle in being named UAPB head baseball coach prior to the 2011 season. He has led Golden Lion baseball to three Southwestern Athletic Conference Western Division titles and five 20-win seasons during his tenure as head coach.
"That's a testament to Seminole and the structure they gave me when I was younger," said James of his career achievements. "Now I'm able to pass that on to my players and my kids and the people that I'm around the importance of having a strong work ethic, and to be someone that never gives up, that never quits and  no matter what the circumstance is, that you always make it happen. I'm honored to be elected into the Hall of Fame and something that I can pass on to my kids and hopefully continue to be example to my players about staying focused and achieving goals."