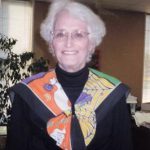 Jacquelyn Havill Sargent, 81, of St. Cloud, Florida, formerly of Pine Bluff, went to be with the Lord, Friday, January 17, 2020.
Mrs. Sargent was born July 5, 1938 in St. Petersburg, Florida to Jackson and Juanita Havill.
She worked as the fiscal director of the Area Agency on Aging of Southeast Arkansas for several years until her retirement in 2007.
Mrs. Sargent was preceded in death by her husband, Willis Sargent, whom she married on July 29, 1956, in Kingsland, Georgia; her parents; and brother, Tim Havill.
Survivors include her sons, Chris Sargent of Harlem, Georgia, and Craig Sargent of St. Cloud, Florida; a daughter, Lynda Davis of Pine Bluff; seven grandchildren and five great-grandchildren.
A funeral service is scheduled for 1:30 p.m., Tuesday, January 21, 2020 in the Chapel of Ralph Robinson & Son with Chaplain Monty Self officiating. Visitation will be Tuesday afternoon from 12:30 p.m. until service time at Robinson's. Cremation will follow the funeral service.