Impressive Sprint Marks Highlight Weekend in Baton Rouge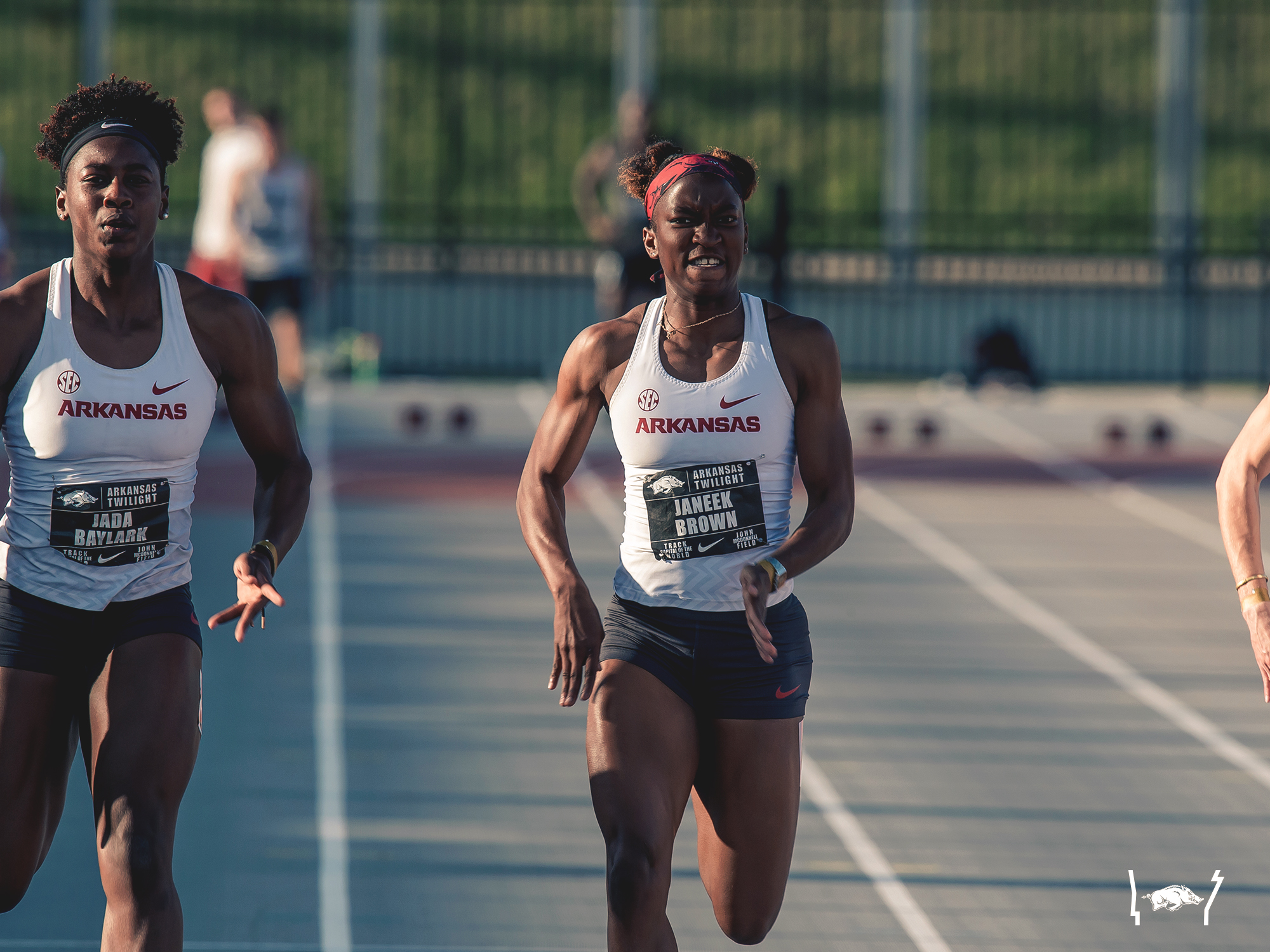 BATON ROUGE, La. – The Razorback sprints and relays wrapped up the LSU Alumni Gold Saturday afternoon with five program top-10 marks including two by sophomore Janeek Brown who took a break from the hurdles this weekend to focus on her sprint work sprints.
The Razorback sprint relay of Kiara Parker, Payton Chadwick, Janeek Brown, and Kethlin Campbell got the day started on a high note, turning in a season-best performance of 43.45 that also doubles as the No. 4 performance in program history.
Brown started her individual events with a quick run of 11.22 in the 100-meters finishing fifth-overall. Heer time stands as the No. 4 time in program history behind Jada Baylark (11.04), Veronica Campbell (11.10) and Kiara Parker at 11.13. The aforementioned Parker finished sixth in the same event running 11.23 while Tamara Kuykendall finished seventh in the "B" section of the event running 11.83.
In the deuce, Brown once again led the charge for Arkansas as she doubled back from the 100-meters to post a lifetime-best in the 200-meters at 23.05. For the second time in the meet, Brown ran a lifetime-best that finished in the all-time top-10 list checking in at No. 4 in program history trailing only Veronica Campbell (22.41), Taylor Ellis-Watson (22.48), and Jada Baylark (23.00). Also competing in the 200-meters were Chadwick (23.39) who finished ninth in the "A" section, and Tamara Kuykendall (24.26) and Shafiqua Maloney (24.73) who took seventh and 19th in the "B" section.
Kethlin Campbell ran the No. 5 time in program history in the 400-meters earning a second-place finish in her season opener in the event. Campbell is now a member of both the indoor and outdoor top-10 list in the 4000-meters in only her first season on The Hill after transferring from Duke this past summer. Following Campbell were Morgan Burks-Magee (53.83) in 10th, Sydney Hammit (54.03) close behind in 11th, Paris Peoples (54.36) in 13th, and Tiana Wilson in 16th-place. Sydney Davis (56.01) and Shafiqua Maloney (56.75) took seventh and 10th in the "B" section of the 400-meters.
Alex Byrnes took eighth-place in the 800-meters with her run of 2:09.85.
In the hurdle events, Chadwick took care of the high hurdles running a season-best 12.97 for third-place while J'Alyiea Smith handled the intermediate hurdles running 1:01.12 for 12th-place.
To close out the meet, Burks-Magee, Campbell, Chadwick, and Parker ran 3:30.37 in the 4×400-meter relay that is good for No. 7 in program history.
Join us for one of the biggest regular season outdoor meets in collegiate track and field next week, April 26-27, in Fayetteville! Be there to cheer on the Hogs as they compete against some of the best Power Five programs in the country, highlighted by a relay only format on Saturday.
For more information on Arkansas track and field, including in-meet updates, follow @RazorbackTF on Twitter.
4×100-meter relay
1. Parker, Chadwick, Brown, Campbell – 43.45 – No. 4 in program history
100-Meters
5. Janeek Brown – 11.22 – No. 4 in program history
6. Kiara Parker – 11.23
7. Tamara Kuykendall – 11.83
200-meters
4. Janeek Brown 23.05 – No. 4 in program history
9. Payton Chadwick – 23.39
7. Tamara Kuykendall – 24.26
19. Shafiqua Maloney – 24.73
400-meters
2. Kethlin Campbell – 51.83 – No. 5 in program history
10. Morgan Burks-Magee – 53.83
11. Sydney Hammit – 54.03
13. Paris Peoples – 54.36
16. Tiana Wilson – 55.26
7. Sydney Davis – 56.01
10. Shafiqua Maloney – 56.75
800-meters
8. Alex Byrnes – 2:09.85
100-meter hurdles
3. Payton Chadwick – 12.97 – Season-Best
400-meter hurdles
12. J'Alyiea Smith – 1:01.12
4×400-meter relay
1. Burks Magee, Campbell, Chadwick, Parker – 3:30.37- No. 7 in program history
Long Jump
7. G'Auna Edwards – 6.00m (19-8.25)