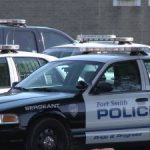 FORT SMITH, Ark.— According to Forth Smith police, a tip was called in Tuesday afternoon about remains found near Riverfront Drive.
Authorities in Fort Smith say they have found possible human remains in the woods near the new U.S. Marshal's Museum. After searching the area, officers found skeletal remains and clothing.
The identity has not been released. The cause of death is unknown at this time. No other information has been released.