Huge First Half Sends Razorbacks To Second Round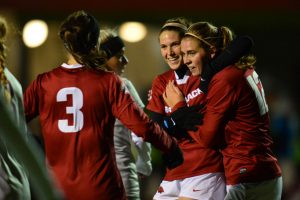 Box Score (PDF) | Tournament Bracket
FAYETTEVILLE, Ark. – Even with a chill in the air, the Razorback Soccer team was red hot on offense Friday night, as it defeated Little Rock, 5-1, in the first round of the NCAA Tournament at Razorback Field. Arkansas scored all five of its goals in the first half to cruise into the second round for the fourth time in school history.
More than 1,100 fans braved the cold temperatures to witness what was not only a monumental matchup between two in-state schools, but also an emphatic Razorback win that ended up being the largest margin of victory in an NCAA Tournament game in school history.
Sophomore Taylor Malham, juniors Kayla McKeon, Tori Cannata, Stefani Doyle and freshman Tyler Runnels all found the back of the net in the first 45 minutes, putting the game away well before halftime. The first two Arkansas goals came in the opening 10 minutes and Malham's goal in the third minutes was the second-fastest goal by a Razorback this season.
McKeon and Cannata both continue to match each other in the goals category as they lead the team with nine goals each this season. Malham has been on fire this postseason as she has seven points in her last four matches, including three tonight with a goal and an assist against the Trojans.
McKeon's nine goals matches her total from her freshman year (2016), which is a career-best. She led all Razorbacks in Friday's match with a season-high four points as she had her goal in the 10th minute and added assists on Malham's goal in the third minute and Cannata's goal in the 13th minute.
From Head Coach Colby Hale
First of all, thanks for coming. Somebody asked me in the second half interview, what I said to the players, I didn't say anything. This group has tremendous fight and tremendous spirit, we're tough to play at home and we're tough to play anywhere. People talk about our home record, but in a neutral site, we're tremendous as well. I thought we put our best foot forward, there is no settling into the game against us, and that's tough. When you go into the NCAA Tournament game and you want a chance to get over the nerves and catch your breath, but by the time you do it's 3-0. I was very pleased. (Little Rock head coach) Mark Foster has done a tremendous job with UALR, congrats to him and his program. That is a monumental feat for the first NCAA Tournament appearance in program history. Congrats to them." – on opening the NCAA Tournament with a 5-1 win over Little Rock
"I thought all of them honestly, but our front three, we ask a lot from our front three maybe more than other any team in the country. When Stefani Doyle gets that look in her eyes, you're not going to be able to keep up with that. Kayla McKeon was everywhere, I thought she was our best player on the field. Tori Cannata had a ridiculous goal. Taylor Malham ran forever. It was just our outside mids that play defense on the field. It feels like we have more players out there. It was a team effort, certainly McKeon stood out, but I thought the whole team was very good." – on which of his player's had the best performance
From Tori Cannata
"With the crowd showing up with it being so cold, it meant a lot to us and showing the support they had for us, it makes us want to come out and play well. I think we came out really hot and I think the crowd enjoys seeing and I'm glad we could get it done for them." – on the crowd's energy
"Whatever is next. We're going to start preparing tonight and we don't know who we play next, but it doesn't matter. We're going to go out and get ready." ­– on what's next for the team after a big first-round win
How It Went Down
3rd minute – The Razorbacks started their NCAA Tournament off quick with a goal three minutes into the game by Kayla McKeon. The junior was served a ball from a cross into the box after some nifty handling and found Taylor Malham sitting a few yards out of the right post. Malham got a touch on the ball to send it in for her sixth goal of the year.
10th minute – Seven minutes later, Arkansas found the net again. This time with Malham returning the favor to McKeon. As the ball was kicked up field, Malham found room inside the box and got enough space from her defender to find McKeon coming in. Malham gave a touch pass to McKeon where she one-timed it past Little Rock's keeper to make it 2-0.
13th minute – McKeon achieved her second assist of the night when she served a corner kick straight to a waiting Tori Cannata who just had to flick it in for the Razorbacks third goal of the night and 11 goals off of a corner kick on the year.
25th minute – After a few well-timed touch passes to advance the ball up the field, Stefani Doyle got in on the scoring. Doyle showed some fancy footwork to beat her defender before clanking one off the right post and into the net, making it 4-0 Arkansas.
42nd minute – Tyler Runnels capped the scoring for Arkansas with three minutes to go in the first half for her first goal of the season. Arkansas saw multiple touches in and around the box leading up to the goals. As the Razorbacks reset their offense off Emily Russell at the far post, Russell flicked a floating cross right to a waiting Runnels at the opposite end, who finished the shot to make it a huge 5-0 lead.  
62nd minute – Little Rock was not going to go home without a fight. After winning one of their two corner kicks in the second half, Morgan Smocovich served the ball into a leaping Liesa Seifert where she headed in her fifth goal of the year and Little Rock's only goal of the night.  
Up Next
Arkansas continues on to the second round of the NCAA Tournament and will face Virginia Tech at a location still to be determined. If two-seed North Carolina wins its match tomorrow against Howard, the Razorbacks will travel to Chapel Hill, N.C. for the Round of 32. If the Tar Heels lose, the location for the next two rounds will be determined by the NCAA. Dates and times for the next round will be announced at a later time.
BY John Thomas