From Arkansas Times 
(link to entire article https://www.arktimes.com/arkansas/arkansas-becomes-casino-country/Content?oid=25648105) 
Though the amendment allows any would-be casino operator to seek a permit from the state, the Oklahoma-based Quapaw Tribe has been working with Pine Bluff officials for five years to gain approval of their bid. Quapaw Chair John Berrey said he hopes the tribe's work with the city will help his group prevail in the permitting process.
Berrey told the Times he hopes to file the tribe's application by the end of April, to be "digging dirt" by June and to open a casino in Pine Bluff early in 2020. He said the group has an option on land on the southwest side of the city, but he wasn't ready to reveal the precise location yet. Some land lies outside the city and would be voluntarily annexed. He said the tribe wants an orderly planning process and envisions developing some 180 to 220 acres initially.
Berrey said it took 10 months to build a casino the tribe operates in Joplin, Mo., a development he said has been worth several billion dollars in associated economic activity to that city. If that construction timeline holds, his 2020 target for a Pine Bluff casino and restaurant could be close. It might take longer to complete the hotel portion of the project, Berrey said.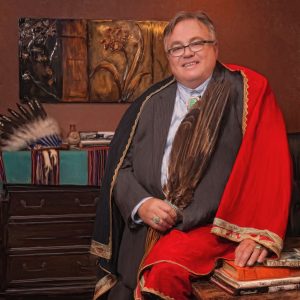 The Quapaw-run casino would offer all gambling options, including a sports book, but Berrey said sports wagering is not a major focus of casino operation because it has a low profit margin.
The Quapaw Tribe is a government, not a shareholder-owned corporation, Berrey emphasized. He said it would devote more to community development than a casino corporation driven strictly by the bottom line. "We're about building communities," he said. "Our goal is to make it a better place for people to live."
Pine Bluff was briefly home to the Quapaw during the 19th century.  The tribe occupied eastern Arkansas during prehistoric and historic times.