Hopkin Breaks Record, Melton Qualifies for Olympic Trials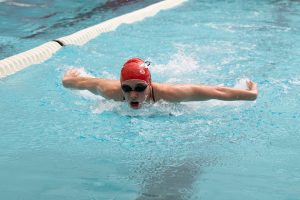 GREENSBORO, N.C.– At the USA Swimming Winter Nationals, junior Anna Hopkin set an Arkansas long course record while freshman Kobie Melton was the first Razorback of the season to qualify for the Olympic Trials in June.
In the first event of the meet, sophomore Peyton Palsha earned a 10th place finish in the 800 meter freestyle (8.49.30). In the 400 meter freestyle, her 15th place finish (4:19.71) in the preliminaries earned her a spot in the B Finals where she finished in seventh place (4:19.72).
The 200 meter IM saw two Razorbacks compete, with Vanessa Herrmann setting a personal best (2:21.16) and Emma Garfield finishing with a time of 2:24.68.
In the 50 meter freestyle preliminaries, five Razorbacks competed with three setting personal bests. Erin Kelly finished 47th (27.06) while Molly Moore set a personal best (26.82) for a 41st place finish and Kiera Michailoff-Russell finished in 28th place (26.63). Both Hopkin and Melton set personal bests on their way to the finals, with Melton finishing in 11th place (26.03) and Hopkin setting a long course record with her third-place finish (25.05).
Melton's B Final time of 25.78 earned her a second-place finish and a spot at the Olympic Trials in Omaha, Neb. next June while Hopkin's third-place finish (24.93) in the A Finals broke the school record in the long course 50 freestyle she set earlier in the day.
BY Jordan Manning