Home Run Ball Delivers Game One Win Over Aggies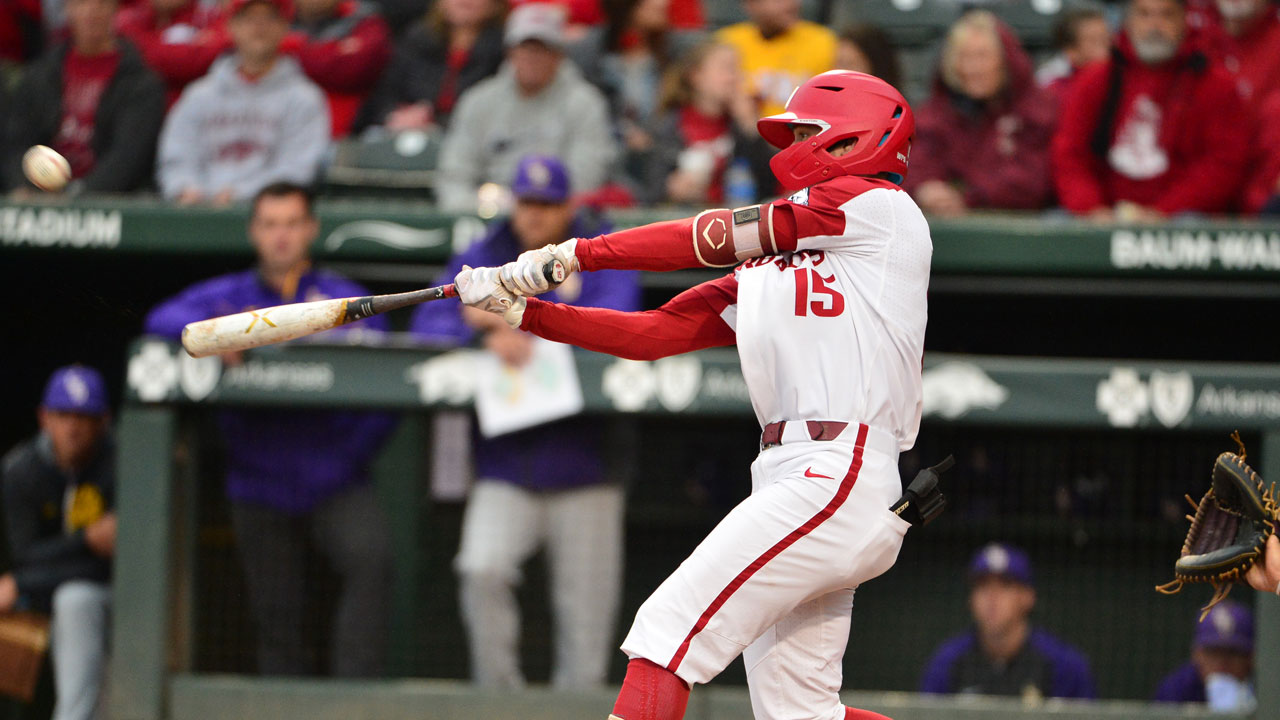 COLLEGE STATION, Texas – Fourth-ranked Arkansas used the home run ball five times Thursday night to pull out a 7-3 victory over 17th-ranked Texas A&M at Blue Bell Park. Arkansas has won five-straight conference series openers and 20 SEC games for the first time in the Dave Van Horn era.
Arkansas remains one game ahead of Mississippi State in the SEC Western Division with two games to play. The Bulldogs defeated South Carolina, 24-7, for their 44th victory and 19th in conference play.
The Hogs were able to get ahead of Aggie starter Chris Weber for five runs in five innings and it all began with a three-run homer by redshirt senior Trevor Ezell in the third inning. What followed was four more home runs off the bats of Casey Martin in the fifth and ninth, Matt Goodheart also in the fifth and Jack Kenley in the sixth, marking the sixth time this year and second in the last four games that the Hogs have hit four or more home runs in a game and third with five or more.
The win by the Razorbacks was their 40th of the year and 20th in league play. It's the third-straight year and fifth time in the last six years the Hogs have totaled 40 or more wins. This year's team is the fastest Razorback team to reach 40 wins since 1989.
It's also the first time Arkansas has won 20 or more games in SEC play since 1999 and first under head coach Dave Van Horn. Arkansas won a school-record 22 games in conference play in 1999 under long-time head coach Norm DeBriyn.
Once again, right-hander Isaiah Campbell gave Arkansas a quality outing, going six innings strong with only two runs allowed, one being earned and six strikeouts. Campbell has 10 quality starts in his last 11 outings and picked up his 10th win of the year, making him the second pitcher (Blaine Knight) in the last six years to win 10 or more games in a single season.
They Got Five On It
For the second time in four games, Arkansas hit five home runs in Thursday's contest, upping their season total to 75, which now leads the SEC. Casey Martin went deep twice in the game, his first multi-home run game this season, while Trevor Ezell, Matt Goodheart and Jack Kenley also launched homers. Martin is now tied for the team lead with Heston Kjerstad with 14 home runs this season. Ezell's three-run bomb was his eighth of the year and second in four games. Goodheart's was his second this year and Kenley's was his 11th. Martin and Goodheart's home runs in the fifth inning were of the back-to-back variety. It's the second time this year the Hogs have gone back-to-back, the last coming against Northwestern State on April 23.
Chicks Dig Extra-Base Hits
Eight of Arkansas' 10 hits Thursday night went for extra-bases, three from doubles coupled with the five home runs. It's the most extra-base hits in a game for the Hogs since April 27 where they notched 10 against Tennessee. Arkansas has 20 extra-base hits in the last four games and is averaging 8.5 runs per game over that same stretch.
Bullpen Picks Up Campbell In Final Three Innings
After Isaiah Campbell held Texas A&M down for six innings, he handed over the ball to Kevin Kopps, who pitched a beautiful seventh inning before running into trouble in the eighth. Jacob Kostyshock, making his third appearance in three games, came on to relieve Kopps in the middle of the eighth after A&M scored to make it 6-3. Kostyshock was able to strand two runners and pick up a big strikeout of the potential game-tying run at the plate. Junior Matt Cronin finished off the ninth inning, but it wasn't a save situation as he faced five batters and gave up one hit and one walk.
Razorback Quotables
"You'll notice Casey isn't hooking the ball as much, he's just staying through the middle. There's a lot of times that we wouldn't let him pull the ball during batting practice. We just told him to stay through the middle and he started having success in the games. He's bought in and he just has so much bat speed that he can wait longer than a lot of people. He's just got to learn that. He's still growing up and still developing. He's paid attention and has seen what's worked for him and taken it to the game." – Head coach Dave Van Horn on Casey Martin's play over the last month
"We've got some guys with some power, but we're not trying to make it a habit. You've got to give Texas A&M a little bit of credit, they struck us out 18 times tonight, we just took some good swings and a few of those home runs were with two strikes. We just took advantage of a couple of balls that were left up in the zone." – Head coach Dave Van Horn on his team's five-home run day
Up Next
Arkansas and Texas A&M will be back on the field tomorrow with first pitch from Blue Bell Park at 6:30 p.m. The game will be televised online only via SEC Network+.
by John Thomas