Hogs Win on Senior Day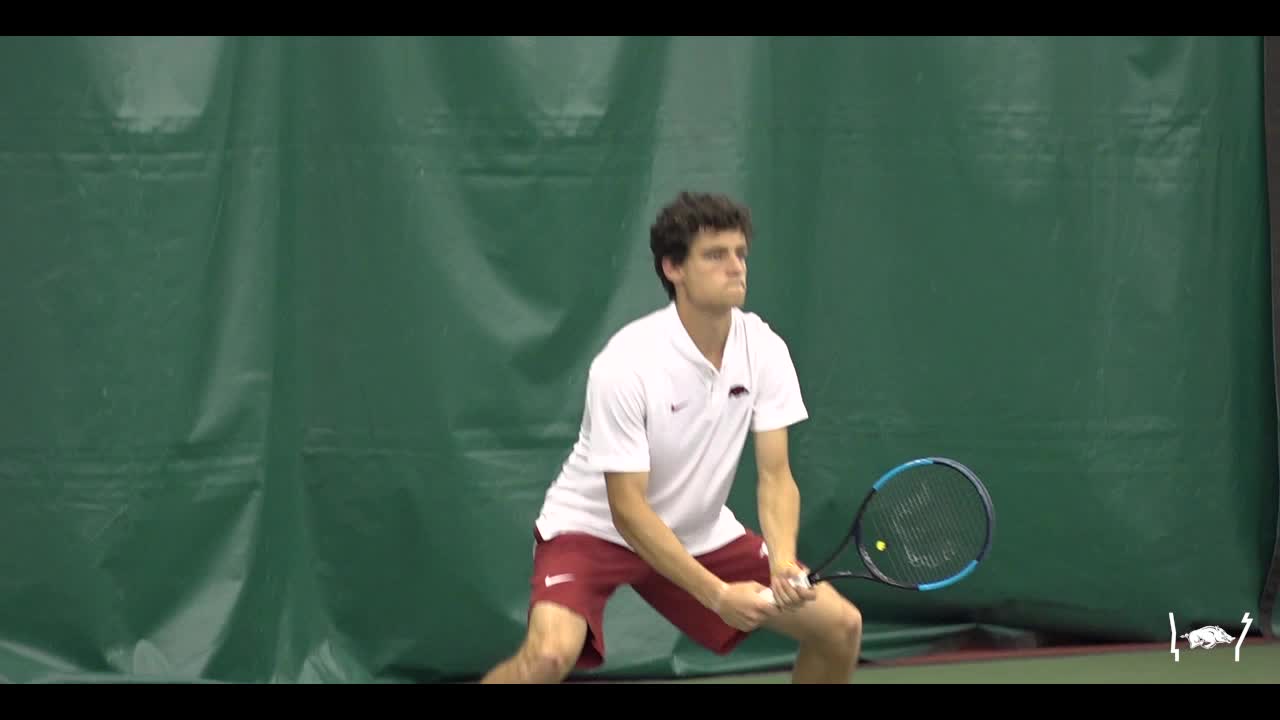 FAYETTEVILLE, Ark.- The Arkansas men's tennis team defeated Auburn 4-3 on Saturday afternoon to close out the regular season.
The Hogs dropped the doubles point in straight sets, as Auburn earned victories at the No. 1 and No. 2 positions. Arkansas quickly evened the match at the No. 3 position, as Alex Reco earned a 6-1, 6-2 victory.
The Razorbacks went ahead with a 6-1, 6-4 win from Maxim Verboven, getting within one of the clinch as No. 65 Oscar Mesquida earned a 6-4, 6-3 win at the No. 1 position. Jose Dominguez Alonso clinched for the Hogs at the No. 5 position, before the Tigers took the final two matches.
"We want to thank the great crowd that came out, especially Coach Cox and the big group of Razorback Tennis Alumni," head coach Andy Jackson said. " They provided great encouragement and it really helped us at a moment when we needed it."
Arkansas will return to the court next week for the SEC Tournament hosted by Florida.
For more information on Arkansas men's tennis, including in-match updates, follow @Razorback MTEN on Twitter.
Singles Results – Order of Finish (3,6,1,5,2,4)
1. #65 Oscar Mesquida (AR) def. Tad Maclean (AUBURN) 6-4, 6-1
2. Matteo DeVincentis (AUBURN) def. Josh Howard-Tripp (AR) 6-3, 6-4
3. Alex Reco (AR) def. Filippo Mora (AUBURN) 6-1, 6-2
4. Tim Dollman (AUBURN) def. Enrique Paya (AR) 6-3, 7-5
5. Jose Alonso (AR) def. Brandon Laubser (AUBURN) 6-3, 6-1
6. Maxim Verboven (AR) def. Diego Chavarria (AUBURN) 6-1, 6-4

Singles Results – Order of Finish (3,6,1,5,2,4)
1. #62 Tad Maclean/Brandon Laubser (AUBURN) def. Oscar Mesquida/Adam Sanjurjo (AR) 6-1
2. Filippo Mora/Matteo DeVincentis (AUBURN) def. Maxim Verboven/Enrique Paya (AR) 6-4
3. Alex Reco/Jose Alonso (AR) v. Anders Fry/Diego Chavarria (AUBURN) 5-4, unfinished