Hogs to Close Out Fall Play at Auburn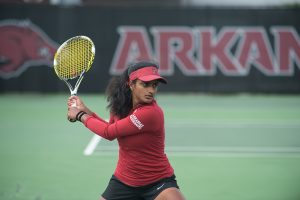 FAYETTEVILLE, Ark.- The Arkansas women's tennis team will send four student-athletes to the Marliss Gruver Fall Invitational hosted by Auburn in its final tournament of the fall. Thea Rice, Martina Zerulo, Shwetha Prabakar, and Lauren Alter will represent the Hogs in Auburn, Ala.
This will be the fifth tournament for the team in its first year under head coach Courtney Steinbock. The last tournament for the Razorbacks was the ITA Central Regional Championships, highlighted by impressive doubles play.
Arkansas is one of seven teams to compete in the tournament, with fellow SEC schools Auburn and Ole Miss also competing. With the exception of Georgia State, the six other schools in the tournament are Power-5 teams.
In doubles play, Alter and Rice will pair up in Flight 1 to face Malika Ngounoue and Plobrung Plipuech. Zerulo and Prabakar will face Annabella Bowen and Lindsay Song of Auburn in Flight 2.
Zerulo will face Sophia Graver of Auburn in Singles Flight 1, with Alter facing Daniella Roldan of Miami (Fla.) in Flight 2. Rice will face No. 1 seeded Alexa Bortles of Ole Miss in Flight 3 while Prabakar will face the No. 2 seed Yuna Ito of Miami (Fla.).
Tomorrow's matches will likely take place in the indoor courts at the Yarborough Tennis Center due to the threat of inclement weather, with Saturday and Sunday's matches projected to be outside.
For more information on Razorback Women's Tennis, follow @RazorbackWTEN on Twitter.
BY Jordan Manning