Hogs To Begin 2019 In Top-15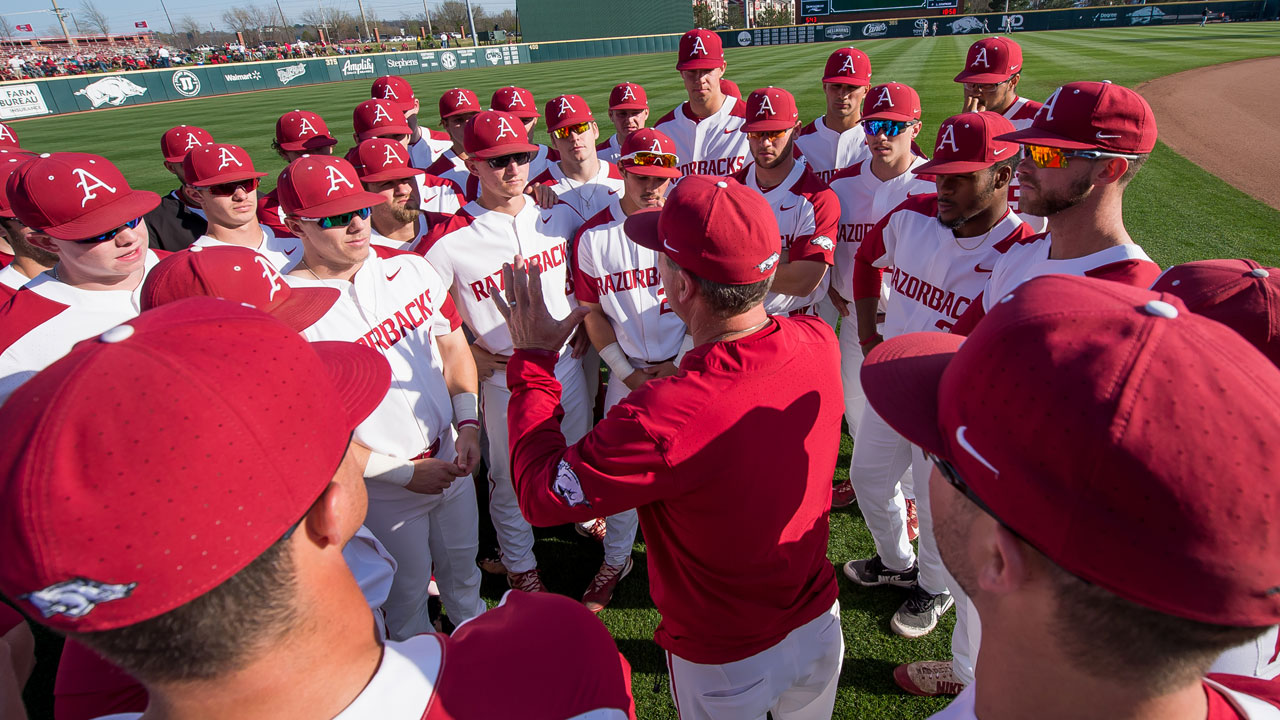 CEDAR RAPIDS, Iowa – The Arkansas baseball team earned a spot at No. 13 in the Perfect Game Preseason Poll that was released earlier today. The Razorbacks join seven other SEC teams in the top 25, five of which they will face at some point during the season.
Coming off its first national runner-up finish since 1979, Arkansas will once again begin its season as one of the best teams in the nation. Of the five SEC teams that are ranked and will face the Razorbacks this year, three will be coming to Fayetteville including No. 10 Ole Miss (March 29-31), No. 17 Mississippi State (April 18-20) and No. 1 LSU (May 9-11).
Arkansas will also go on the road to face No. 3 Vanderbilt (April 12-14) and No. 15 Auburn (April 4-6).
Entering his 17th season at the helm, head coach Dave Van Horn returns 14 letterwinners from a year ago and will be looking to continue the success seen last year where the Razorbacks reached the College World Series for the ninth time in school history.
Offensively, the Hogs return a potent lineup including two of the top freshman hitters in the nation from a year ago. Reigning SEC Freshman of the Year Heston Kjerstad is back for his sophomore season after hitting .332 while setting the Arkansas freshman record with 87 hits, 14 home runs and 58 RBIs.
As for infielder Casey Martin, the Lonoke, Arkansas native has already racked up two preseason All-American honors and will look to improve on his team-leading .345 batting average, which led all freshmen in the SEC. Martin was a tough out at the College World Series, hitting .357 with 10 of his 19 NCAA Tournament hits coming in Omaha.
Arkansas is scheduled to open the 2019 season against Eastern Illinois on Friday, Feb. 15 with first pitch at 3 p.m. at Baum Stadium. Season tickets, mini-plan, and group tickets are now on sale through the Razorback Ticket Office.
2019 Perfect Game NCAA Division I Baseball Preseason Poll

| Rank | Team (2018 Final Record) | 2018 Finish |
| --- | --- | --- |
| 1 | LSU (39-27) | Corvallis Regional |
| 2 | Oregon State (55-12-1) | College World Series Champions |
| 3 | Vanderbilt (35-27) | Nashville Super Regional |
| 4 | UCLA (38-21) | Minneapolis Regional |
| 5 | Texas Tech (45-20) | College World Series |
| 6 | North Carolina (44-20) | College World Series |
| 7 | Stanford (46-12) | Stanford Regional |
| 8 | Louisville (45-19) | Lubbock Regional |
| 9 | Florida (49-21) | College World Series |
| 10 | Ole Miss (48-17) | Oxford Regional |
| 11 | East Carolina (44-18) | Greenville Regional |
| 12 | Baylor (37-21) | Stanford Regional |
| 13 | Arkansas (48-21) | College World Series Runner-Up |
| 14 | Florida State (43-19) | Tallahassee Regional |
| 15 | Auburn (43-23) | Gainesville Super Regional |
| 16 | TCU (33-23) | Did not make postseason |
| 17 | Mississippi State (39-29) | College World Series |
| 18 | Oklahoma State (31-26-1) | Deland Regional |
| 19 | Michigan (33-21) | Did not make postseason |
| 20 | UConn (37-22-1) | Conway Regional |
| 21 | NC State (42-18) | Raleigh Regional |
| 22 | Georgia (39-21) | Athens Regional |
| 23 | UC Irvine (32-24) | Did not make postseason |
| 24 | Clemson (47-16) | Clemson Regional |
| 25 | Coastal Carolina (43-19) | Conway Regional |
by: John Thomas