Hogs Split Senior Day Doubleheader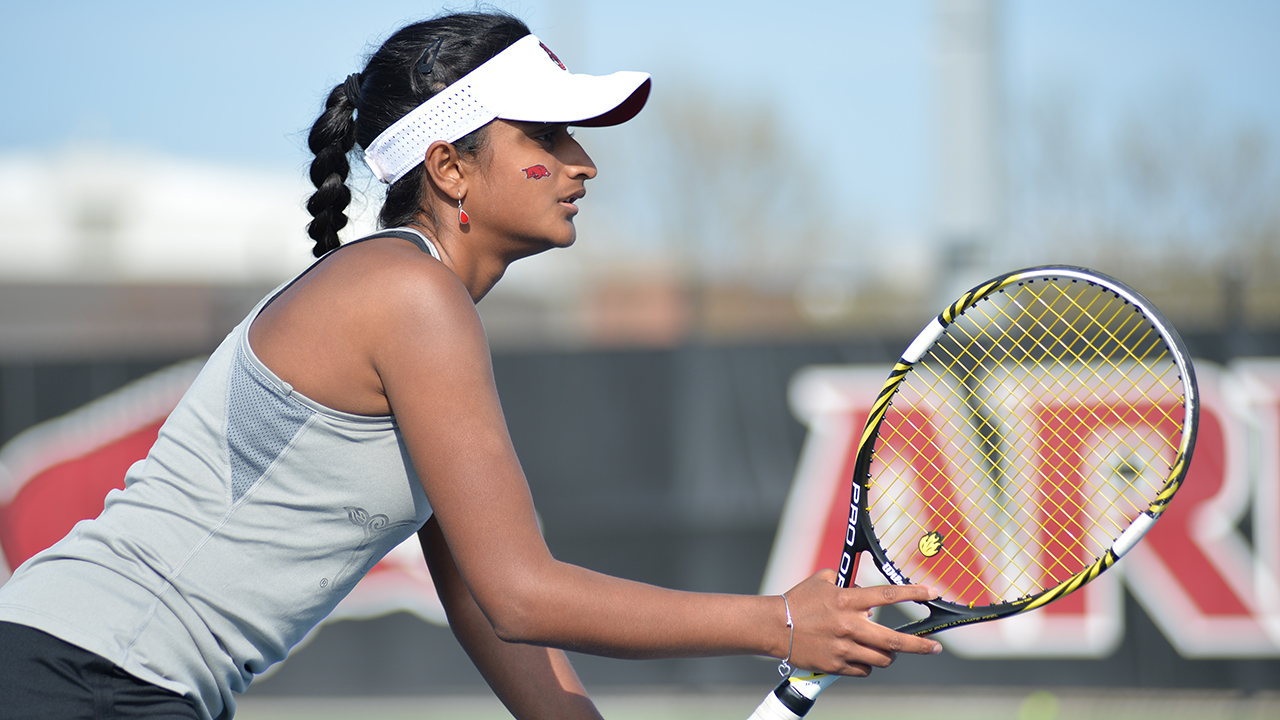 FAYETTEVILLE, Ark.- The No. 40 Arkansas women's tennis team split play on Sunday's senior day, falling to No. 17 Tennessee before defeating Oral Roberts. Prior to the Oral Roberts match, senior Shwetha Prabakar was honored as part of senior day activities.
The Hogs dropped a close doubles point against the Lady Vols, with Tennessee clinching the point in the third set. Martina Zerulo and Thea Rice put Arkansas up a set with a 6-2 victory before No. 16 Sadie Hammond and Kaitlin Staines tied doubles with a 6-3 win over Tatum Rice and Lauren Alter. Tennessee ended doubles with a 6-4 defeat over Miruna Tudor and Jackie Carr to go up 1-0.
The Lady Vols went up 2-0 as Laura Rijkers fell 6-0, 6-1 before No. 104 Zerulo earned Arkansas' lone point of the match with a 6-0, 6-3 victory over No. 65 Hammond. Tennessee got within one of the clinch as Alter fell 6-3, 6-4 and clinched the match with a third set victory over No. 84 Tatum Rice.
Arkansas took the doubles point against Oral Roberts in straight sets, with Tatum Rice and Alter earning a 6-1 win before Prabakar and Tudor clinched the point at the No. 3 position.
The Razorbacks quickly went up 2-0 as Oral Roberts forfeited at the No. 4 position before Tatum Rice put the team within one of the clinch with a 6-0, 6-1 victory. Prabakar put the match away at the No. 6 position, earning a 6-3, 6-1 victory.
The Hogs will return to the court next weekend to close out the regular season at Auburn and Alabama.
For more information on Razorback women's tennis, follow @RazorbackWTEN on Twitter.
Match One | No. 17 Tennessee 4, No. 40 Arkansas 1
Doubles Results – Order of Finish (2,1,3)
1. #16 Sadie Hammond/Kaitlin Staines (UT) def. Lauren Alter/Tatum Rice (ARK) 6-3
2. Martina Zerulo/Thea Rice (ARK) def. Maia Haumuller/Tenika McGiffin (UT) 6-2
3. Rebeka Mertena/Johanna Silva (UT) def. Miruna Tudor/Jackie Carr (ARK) 6-4

Singles Results – Order of Finish (4,1,3,2)
1. #104 Martina Zerulo (ARK) def. #65 Sadie Hammond (UT) 6-0, 6-3
2. Kaitlin Staines (UT) def. #84 Tatum Rice (ARK) 6-4, 1-6, 6-4
3. Johanna Silva (UT) def. Lauren Alter (ARK) 6-3, 6-4
4. Rebeka Mertena (UT) def. Laura Rijkers (ARK) 6-0, 6-1
5. Miruna Tudor (ARK) vs. Ariadna Riley (UT) 6-4, 6-5, unfinished
6. Jackie Carr (ARK) vs. Tenika McGiffin (UT) 2-6, 6-2, 2-1, unfinished

Match Two | No. 40 Arkansas 5, Oral Roberts 0
Doubles Results – Order of Finish (1,3)
1. Tatum Rice/Lauren Alter (ARK) def. Ceijenia Cornelius/Flavia Gutierrez (ORUW) 6-1
2. Martina Zerulo/Thea Rice (ARK) vs. Rai Sengupta/Andrea Vasiljevic (ORUW) 5-3, unfinished
3. Shwetha Prabakar/Miruna Tudor (ARK) def. Valentina Gisbert/Jovana Antonijevic (ORUW) 6-3

Doubles Results – Order of Finish (4,2,6,1)
1. Martina Zerulo (ARK) vs. Ceijenia Cornelius (ORUW) 6-1, 6-1
2. Tatum Rice (ARK) def. Rai Sengupta (ORUW) 6-0, 6-1
3. Lauren Alter (ARK) vs. Flavia Gutierrez (ORUW) 7-6 (7-5), 2-0, unfinished
4. Laura Rijkers (ARK) def. Jovana Antonijevic (ORUW) 3-0, retired
5. Thea Rice (ARK) vs. Andrea Vasiljevic (ORUW) 6-2, 5-2, unfinished
6. Shwetha Prabakar (ARK) def. Valentina Gisbert (ORUW) 6-3, 6-1