Hogs Pick Up Road Win at Colorado State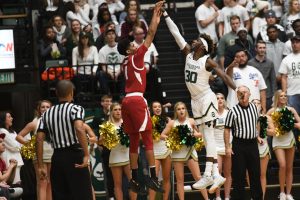 FORT COLLINS, Colo. – Jalen Harris ad 12 assists, with just two turnovers, and six Razorbacks scored in double figures to lead Arkansas to a 98-74 victory over Colorado State Wednesday night at Moby Arena.
The game was the first true road game for the 6-1 Razorbacks, who dished out at least 2 assists for the four time in five games. Arkansas finished with 28 helpers, the second-best total of the season, while it committed a season-low seven turnovers.
The Razorback bench played a huge factor in Arkansas leading 44-33 at the break. Reggie Chaney scored nine off the bench and Keyshawn Embery-Simpson added eight as the Razorback bench out-scored the Rams' bench 22-2.
The Razorbacks shot 50 percent from the field in the first half, including 42.9 from 3-point range, but was just 4-of-6 at the line. The Rams were able to stay close by making 7-of-11 free throws and 42.9 percent from 3-point range despite shooting just 34.5 percent from the field overall.
In the second half, Daniel Gafford had 10 points and six rebounds, while Isaiah Joe scored nine. The pair played a key role in a 13-0 run to put their team up 20.
The Rams made 14 free throws, versus just 11 field goals, but Arkansas only committed two, second-half turnovers.
Mason Jones led the Razorbacks with 16 points, followed by Joe (14), Embery-Simpson (14), Gafford (12), Chaney (11) ad Adrio Bailey (10). Gafford was a rebound shy of double-double, getting nine boards, and Chaney had eight rebounds.
BY Taylor McGillis