Heartbreaking Loss for Arkansas at San Diego State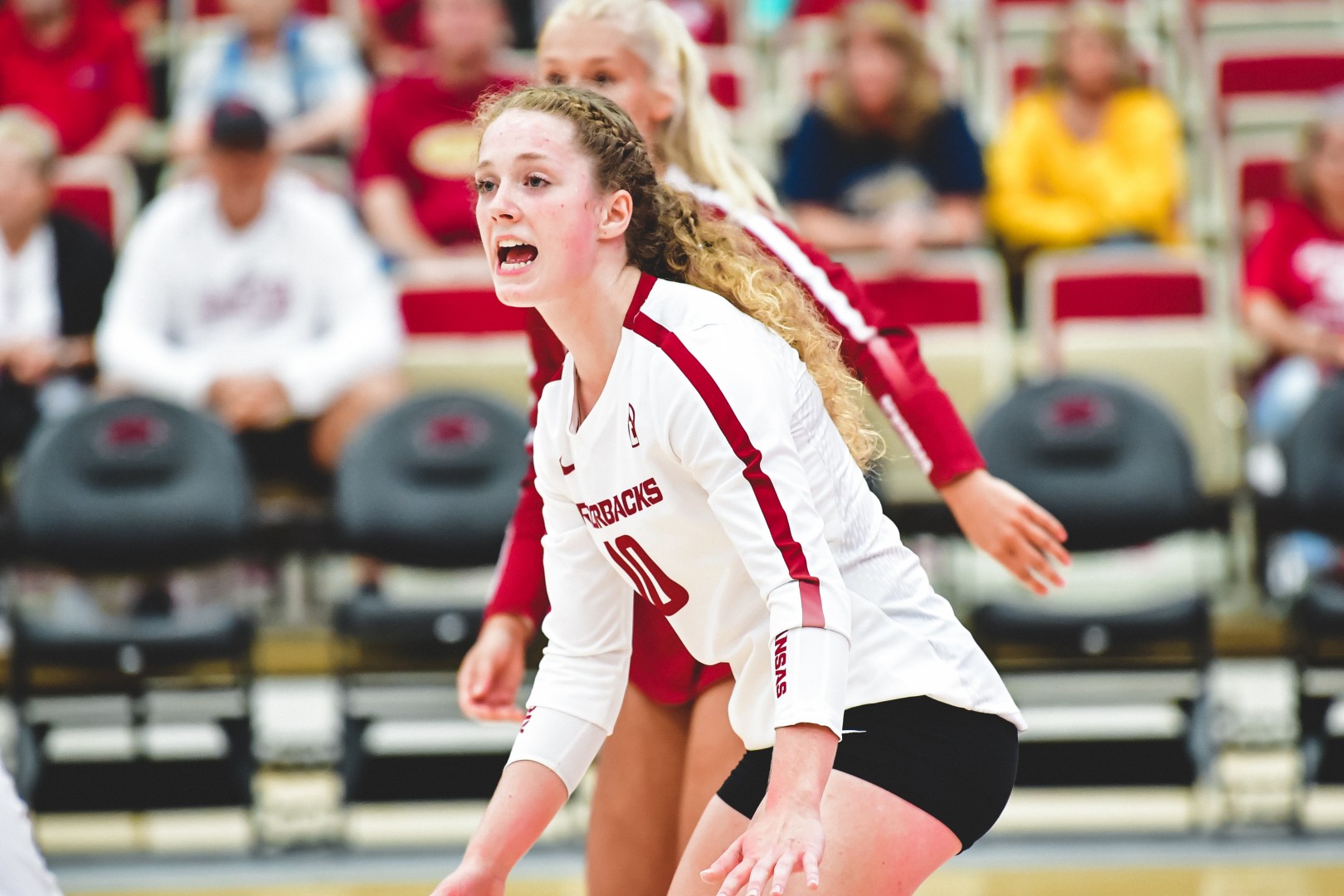 FAYETTEVILLE – Looking for redemption after dropping its last two matches, the University of Arkansas volleyball team came up just short in the final contest of its weekend in California dropping a five-set heart-breaker to San Diego State (24-26, 25-16, 19-25, 25-17, 12-15).
It looked to be all Aztecs in the final set, as San Diego State jumped out to a 7-1 lead, but Arkansas claimed five of the next six points to pull within two of SDSU's lead. The next few rallies would go back and forth between the teams, but a 3-0 scoring run by the Aztecs after a late timeout would give them the edge needed to pull out the fifth set win.
For the second time this season, three Razorbacks landed double-doubles. Freshman Jillian Gillen led the way with 28 kills and 11 digs, while teammate Maggie Cartwright recorded 11 kills and 10 digs and junior setter Gracie Ryan tallied 18 assists and 12 digs.
Gillen's 28 kills are a new match high for Arkansas this season, as is her .440 clip. Though she had already joined the elite list of Razorbacks with 25 or more kills in a contest last week with 26 kills against Montana State, Gillen is just the second in the Watson era to record 28 kills, the first since 2017.
After dropping the first set to the Aztecs, the Razorbacks regrouped and doubled-down at the net, recording more kills in less attempts and increasing its hitting percentage from .179 to .364.
The Hogs rallied multiple times, going on three or four points scoring runs four times throughout the second set. Arkansas recorded five of its eight service aces in the second, three of which came from sophomore Ellease Crumpton who finished with four aces on the day.
Set three fell back in favor of SDSU, but the Razorbacks again showed their resilience in the fourth set. It was quite a show that Arkansas put on in the fourth set, with 17 kills and only three errors in 27 attacks, the Hogs were swinging a season set-high .519 at the net.
Junior Liz Pamphile was in true form, leading the Arkansas defense with four blocks. The Razorbacks record 43 digs to the Aztecs' 42, but most impressively did not commit a single reception error through five sets.
Arkansas will be back in action on Tuesday evening (Sept. 10) in Barnhill Arena playing host to Arkansas Pine-Bluff at 6 p.m. (CT).
by Jessica Roberson