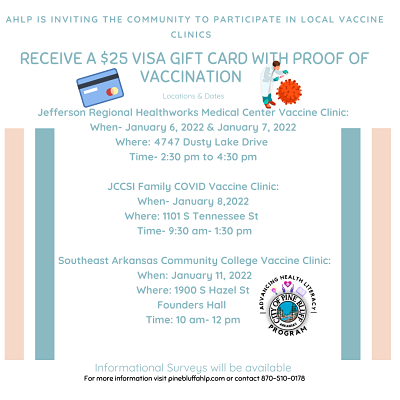 Jefferson Regional HealthWorks Medical Center has partnered with the Advancing Health Literacy Program of Pine Bluff to offer $25 visa gift cards to those that receive a vaccine on Thursday, January 6th, and Friday, January 7th from 2:30 pm until 4:30 pm. The center offers and will be distributing the first, second, and booster vaccines for those that are eligible to receive them. AHLP will distribute the gift cards after proof of vaccination is shown.
In December, Erin Bolten the Director of Quality/Regulatory for Jefferson Regional joined the Oldies 101.3 morning show with AHLP and was asked about the importance of getting vaccinated.
The clinic will be open to the public and will not require an appointment for those specific days only. The AHLP will be distributing the vaccine gift cards and Deseray McKinzy the media coordinator for the program spoke more about that.