Harter, Robinson Earn SEC Accolades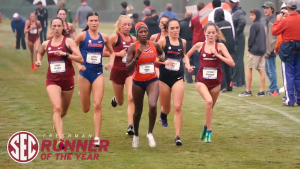 BIRMINGHAM, Ala. – The fifth-ranked Arkansas cross country team picked up three of the four Southeastern Conference postseason awards in recognition of the program's dominant title performance at the 2018 championship meet.
After earning SEC Freshman/Runner of the Week awards on four occasions throughout the regular season, Katrina Robinson has been named SEC Freshman of the Year following her runner-up finish at the SEC Championships in Auburn, Ala. Robinson has finished as the No. 1 for Arkansas in every one of her races this season while finishing as the fastest Razorback ever over 6K during the SEC Championships with her blistering time of 19:00.88. She is the ninth Razorback to win the award since 2000, and follows in the footsteps of then-freshman Lauren Gregory who won the award in 2017. This is the third-straight season an Arkansas athlete has taken home Freshman of the Year – Abby Gray ('16), Lauren Gregory ('17).
Robinson's Results (2018 Season):
Chile Pepper 5K- 1st (16:15.30)
Nutty Combe Invitational 6K- 8th (19.55.30)
Pre-Nationals 6K- 2nd (20:09.40)
SEC Championships 6K- 2nd (19:00.88)
Responsible for coaching the young group to success, head coach Lance Harter has been named the SEC Coach of the Year for the 19th time of his career. The winningest coach in conference history, Harter's talented squad featured a solid mix of both young and veteran runners, boasting two underclassmen in his top seven at the conference meet. Six runners earned All-SEC recognition including four on the first team.
Harter's SEC Legacy
19-time SEC Cross Country Champions
19-time SEC Coach of the Year
16 SEC Individual Champions
Nine SEC Freshman of the Year
It was previously announced that Arkansas' Taylor Werner was voted the Women's Scholar-Athlete of the Year. Werner, a junior from Ste. Genevieve, Mo., holds a 4.0 grade point average in kinesiology: exercise science. She is a member of the SEC Academic Honor Roll.
All-SEC Cross Country Teams
Women's First Team All-SEC
Jessica Pascoe, Florida
Katrina Robinson, Arkansas
Lauren Gregory, Arkansas
Carina Viljoen, Arkansas
Joyce Kimeli, Auburn
Taylor Werner, Arkansas
Jessica Drop, Georgia
Women's Second Team All-SEC
Elisabeth Bergh, Florida
Sydney Brown, Arkansas
Maddy Reed, Arkansas
Morgan Hull, Florida
Clio Ozanne-Jaques, Ole Miss
Tori Findley, Missouri
Katie Thronson, Tennessee
Women's Freshman All-SEC
Katrina Robinson, Arkansas
Tori Findley, Missouri
Katie Thronson, Tennessee
Reilly Revord, Missouri
Lisa Vogelgesang, Ole Miss
Haley Walker, Vanderbilt
Mikayla Reed, Missouri
BY Jeff Smith