Hari Sets Danish 100-meter National Record, Top-10 Mark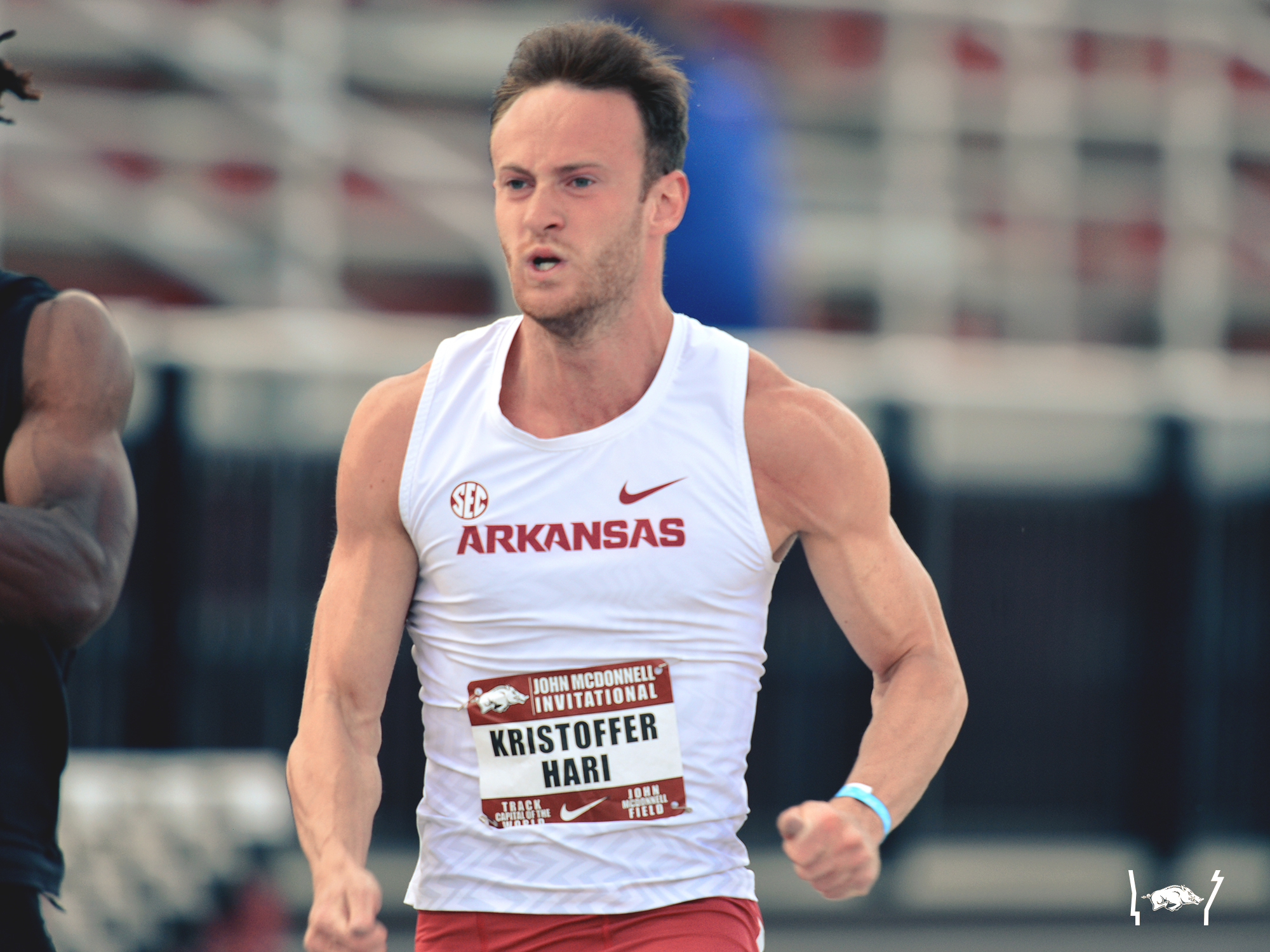 WACO, Texas – A Danish national record and a pair of Arkansas top-10 marks highlighted action for Arkansas at the Michael Johnson Invitational at Clyde Hart Track & Field Stadium Saturday afternoon.
Kris Hari has had quite the last two weeks on the track for the Razorbacks where he's turned in a lifetime-best in the 100-meters on each occasion. At last week's John McDonnell, Hari raced to a time of 10.31 lowering his personal-best from the previous wind-legal mark of 10.52. On Saturday, Hari ran 10.26 in the 100-meters finishing fourth-overall in a field that featured the No. 1 time in the NCAA this season by Texas Tech's Divine Oduduru who paced the field at 9.94. Hari's time is the 10th-fastest in Arkansas program history and is also a new Danish National Record in the event besting the previous mark of 10.29 set by Morten Jensen in 2004.
Roy Ejiakuekwu also turned in a lifetime-best in the 100-meters with his time of 10.37 for seventh-place, while Josh Oglesby made it 3-for-3 on the day for Razorback PRs in the race as his time of 10.44 is a lifetime-best for the freshman from Katy, Texas.
Jalen Brown (21.17), Rashad Boyd (21.29), and Rhayko Schwartz (21.51) finished 10th, 12th, and 14th in the 200-meters with Brown's mark being an all-conditions lifetime-best in the event.
Hunter Woodhall, who returned to the track where he made his Arkansas outdoor debut last season, used a run of 46.52 to finish fifth overall.
Tre'Bien Gilbert (14.01) and Shakiel Chattoo (14.24) grabbed top-three finishes going 2-3 in the 110-meter hurdles.
The 400-meter hurdles saw Travean Caldwell run a lifetime-best 50.40 that is the eighth-fastest ever by a Razorback athlete.
Sam Kempka's fourth-place finish in the shot put was a lifetime-best for the senior who finished with a best of 18.54m (60-10). Jeff Rogers mark of 17.58m (57-8.25) was also a lifetime-best in a seventh-place finish.
Arkansas' 4×400m Relay of Caldwell, Brown, Hari, Woodhall closed out the meet with a season-best 3:07.37.
Join us for one of the biggest regular season outdoor meets in collegiate track and field next week, April 26-27, in Fayetteville! Be there to cheer on the Hogs as they compete against some of the best Power Five programs in the country, highlighted by a relay only format on Saturday.
For more information on Arkansas track and field, including in-meet updates, follow @RazorbackTF on Twitter.

Men's 4×100m Relay
1. Oglesby, Boyd, Hari, Ejiakuekwu – 39.40 – season-best
Men's 100-meters
4. Kris Hari – 10.26 – Danish National Record/No. 10 in program history
7. Roy Ejiakuekwu – 10.37
12. Josh Oglesby – 10.44
Men's 200-meters
10. Jalen Brown – 21.17
12. Rashad Boyd – 21.29
14. Rhayko Schwartz – 21.51
Men's 400-meters
5. Hunter Woodhall – 46.52
16. John Winn – 47.50
24. James Milholen – 48.85
Men's 800-meters
8. Eugene Grayson III – 1:52.73
11. Reese Walters – 1:56.01
Men's 3,000-meter steeplechase
3. Carter Persyn – 9:54.98
Men's 110-meter hurdles
2. Tre'Bien Gilbert – 14.01
3. Shakiel Chattoo – 14.24
9. Gabe Moore – 14.75
10. Daniel Spejcher -15.12
Men's 400-meter hurdles
5. Travean Caldwell – 50.40 No. 8 time in program history
9. Nick Hilson – 51.88
Men's 4×400m Relay
3. Caldwell, Brown, Hari, Woodhall – 3:07.37 – season-best
Discus
5. Erich Sullins – 51.22m (168-0.50)
12. Gabe Moore – 45.44m (149-1)
16. Daniel Spejcher – 38.44m (126-1.50)
Men's Long Jump
6. Gabe Moore – 6.78m (22-3)
13. Daniel Spejcher – 6.40m (21-0)
Men's Shot Put
4. Sam Kempka – 18.54m (60-10)
7. Jeff Rogers – 17.58m (57-8.25)
Men's Triple Jump
4. Laquan Nairn – 15.12m (49-7.25)
by Jeff Smith