Grambling outlasts UAPB 3-0 on Senior Day
UAPB to face GSU again in rematch in first round of SWAC Soccer Tournament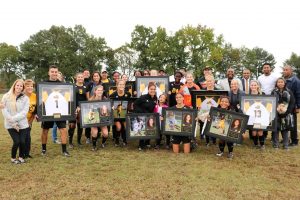 PINE BLUFF, Ark.
– The University of Arkansas at Pine Bluff Lady Lions soccer team fell to Grambling State University 3-0 at Pumphrey Stadium on Senior Day.
Game Notes
-The Lady Lions sent off five seniors who played all four years of collegiate soccer at UAPB. The seniors are Mariah Johnson, Karissa Fenwick, Cierra Fenwick, Victoria Bresler, and Rebecca Holmes.
-Grambling was crowed regular season champs after it earned three points in the final game of the season as it leaped over Howard
-Kaylee Holt scored her in her seventh straight game as she netted the game-winner in the first half for GSU
–Rebecca Holmes picked up a yellow card for the Lady Lions in the 52nd minute of action in her last game at Pumphrey Stadium
-The Lady Tigers held an 8-1 advantage on corner kicks
-UAPB finished with 12 fouls while its opponent had seven
-UAPB produced eight shots (three on goal)
–Tyler Babb, Victoria Bresler, and Shannon Seymour all finished with two shots apiece
-UAPB goalkeeper Sariah Orocu finished with five saves and three goals allowed
-Grambling's defense extended its goalless streak of 660 minutes with the shutout against UAPB
-Both teams will face each other in a rematch in the first round of the SWAC Soccer Tournament next week at Prairie View A&M
"I don't like losing and I'm not a fan of losing," said UAPB Head Coach Dr. Ted Flogaites. "There was a little incident pre-match which I felt was distasteful; I think respect is extremely important. Having said that, I thought they were a good squad. They are very deep and athletic. Justin is a good coach and they were deserving of the win; however, I don't think the score line was indicative of the game. I thought they were better in the first half but I felt we came to play a little bit more in the second," said Coach Flogaites.
Special Thanks to:
Cameo Stokes & Habtom Keleta