LITTLE ROCK – Arkansas's growing battle with the overpopulating feral hog received a boost April 19 at the state Capitol when Gov. Asa Hutchinson signed Senate Bill 460 into law as Act 991 of the Arkansas General Assembly in front of members of the Arkansas Feral Hog Eradication Task Force.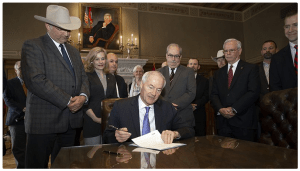 Feral hogs are considered an animal nuisance species and not wildlife that would fall under the Arkansas Game and Fish Commission's role of conservation and species management. But, AGFC Deputy Director Chris Colclasure said, "until the task force was created, we were not all working together to combat feral hogs." Colclasure notes that feral hogs are responsible for an estimated $19 million in row crop damage in the state and $1.5 billion in damages nationwide annually. The broad state and federal task force of 22 partners "was key in getting this legislation passed," said Colclasure, who was vice chairman of the task force.
Wes Ward, Arkansas's secretary of agriculture and chairman of the task force, said, "Agriculture is our state's largest industry, and feral hogs and the damage that they cause pose an increasing threat to all aspects of our state's agriculture industry and our ability to make a living." Along with the agricultural damage caused by feral hogs, they compete for food resources with wildlife such as turkey and deer, a concern for the AGFC. They create environmental damage through the rooting process, leading to erosion into streams and other water sources. As an opportunistic animal, they are nest predators of turkey and quail nests.
Previously, aerial gunning of feral hogs was handled on the federal level. Act 991 creates a permit, obtainable through the Livestock and Poultry Commission and the Arkansas Agriculture Department, to allow aerial gunning, but only to address a bona fide need to kill feral hogs. That need would include protection of land, water, wildlife, livestock, domesticated animals, human life or crops. Recreational hunting would not be permitted.
Act 991 removes hunting license revocation as a consequence of citations for transporting feral hogs. However, it adds up to 90 days in prison for violations in addition to the current fine of $1,000-$5,000 per hog. Penalties for transporting feral hogs can include both a fine and prison time. The act also changes the wording from "shall" seize to "may" seize and take custody of any hog in the possession of an arrested person and may seize equipment, including without limitation a motor vehicle, trailer and trap. The modification of the law will allow flexibility for law enforcement personnel.
Important for the AGFC is that Act 991 now allows any state or federal agency to capture and radio-collar a hog for research and tracking purposes. Such collared hogs are referred to, Colclasure said, as a "Judas hog," allowing biologists to follow one hog to a large population of them for eradication.
Stacy Hurst, director of the Arkansas Department of Heritage, told Hutchinson at the bill signing, "We have 73 natural areas and over 60,000 acres of public land. This has a great impact on us." Jim Dailey, representing Parks and Tourism at the bill signing, said, "We have a lot of interest in this to clean up some of the problems we have with feral hogs."
Shea Lewis, deputy director of Arkansas State Parks, told the governor, that his agency works "closely with the Arkansas Game and Fish Commission to control these issues."
For more information on feral hogs, visit the task force home page at www.agriculture.arkansas.gov/feral-hog-eradication-task-force.