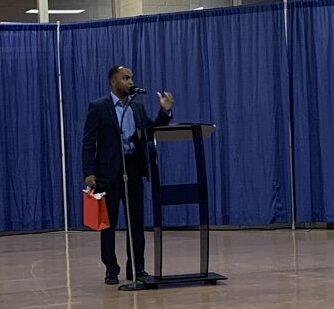 By Deseray McKinzy
On Monday during the City Council meeting, CEO of Go Forward Pine Bluff, Dr. Ryan Watley, and Executive Director of the Generator Mildred Franco announced that they have their first fellow from Teach Pine Bluff Initiative to complete their masters of Education Leadership from Harding University. Jalon Hughes joined the 2019 cohort through the Teach initiative program in which his education was funded at a total of $20,000. 
This initiative called Teach Pine Bluff is powered through the Educational Alliance that consists of representatives from the education sectors within the City. The Alliance's purpose is to implement the L.E.A.P (Leadership, Education, Accountability, Pipeline) that focuses on developing primary and secondary education institutions that are academically and financially sound and improving the education options provided by high schools and institutions of higher education to meet the specific needs of employers in Pine Bluff and surrounding areas. 
Franco introduced Hughes to the Council and explained the process that led to him gaining his degree, 
Teach Pine Bluff Fellows were required to obtain the master's degree within four years and must commit to serving a minimum of three years in the same district following the completion of the degree. The superintendents of the Pine Bluff school districts chose fellows through their district and after Hughes's graduation, the initiative now has a total of eight teachers in the program. In 2021, TEACH Pine Bluff will be offering training and testing assistance to teachers who need to become certified as well.
Hughes left a few words with the council and announced his new role within the Pine Bluff School District,