The public-private partnership between the City of Pine Bluff and Go Forward Pine Bluff is planning to unveil the master plan and vision for downtown at 5:30 p.m. on Thursday, December 20, 2018 at the Community Theatre, according to a news release.
Internationally-renowned landscape architect Steve Luoni from the Community Design Center at the University of Arkansas at Fayetteville will return to Pine Bluff with the plan.
Entitled "Re-Live Downtown Pine Bluff," the major components of the plan were developed in response to public listening sessions held in early August of 2017. The three-day public engagement sessions consisted of citizens being asked the following questions:
‒ What would a vibrant, livable, attractive Pine Bluff look like?
‒ What role should downtown play in revitalizing Pine Bluff?
‒ What can be done to encourage new business to locate in the city?
‒ What is your perception of Pine Bluff and what will change it?
‒ How can Pine Bluff become a city where former residents and new people want to live; as well as become a place of destination for visitors?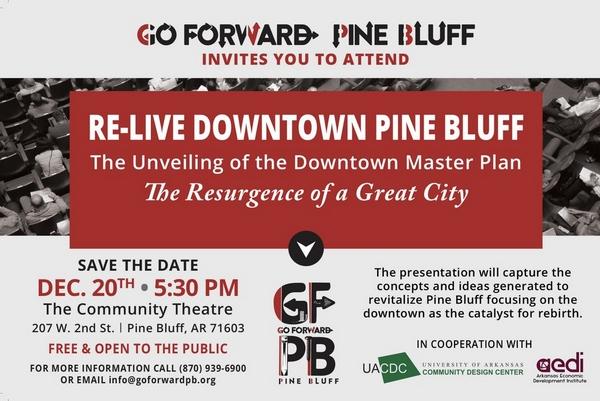 The responses were compiled by the Arkansas Economic Development Institute and from there, the development of the plan initiated, the news release said.
Summary: According to Ryan Watley Chief Executive Officer of Go Forward Pine Bluff, "the Re-Live Downtown Pine Bluff plan is a dynamic vision that will ensure downtown is a point of destination. The working vision is inclusive with respect to both demographics and economics and we are eager to share this exciting new direction."
Where: The unveiling will take place Thursday, December 20, 2018 at the Community Theatre located at 207 W 2nd Avenue in Downtown Pine Bluff. Unveiling begins at 5:30 pm.
Details: For more information, please contact Go Forward Pine Bluff at 870.939.6900.